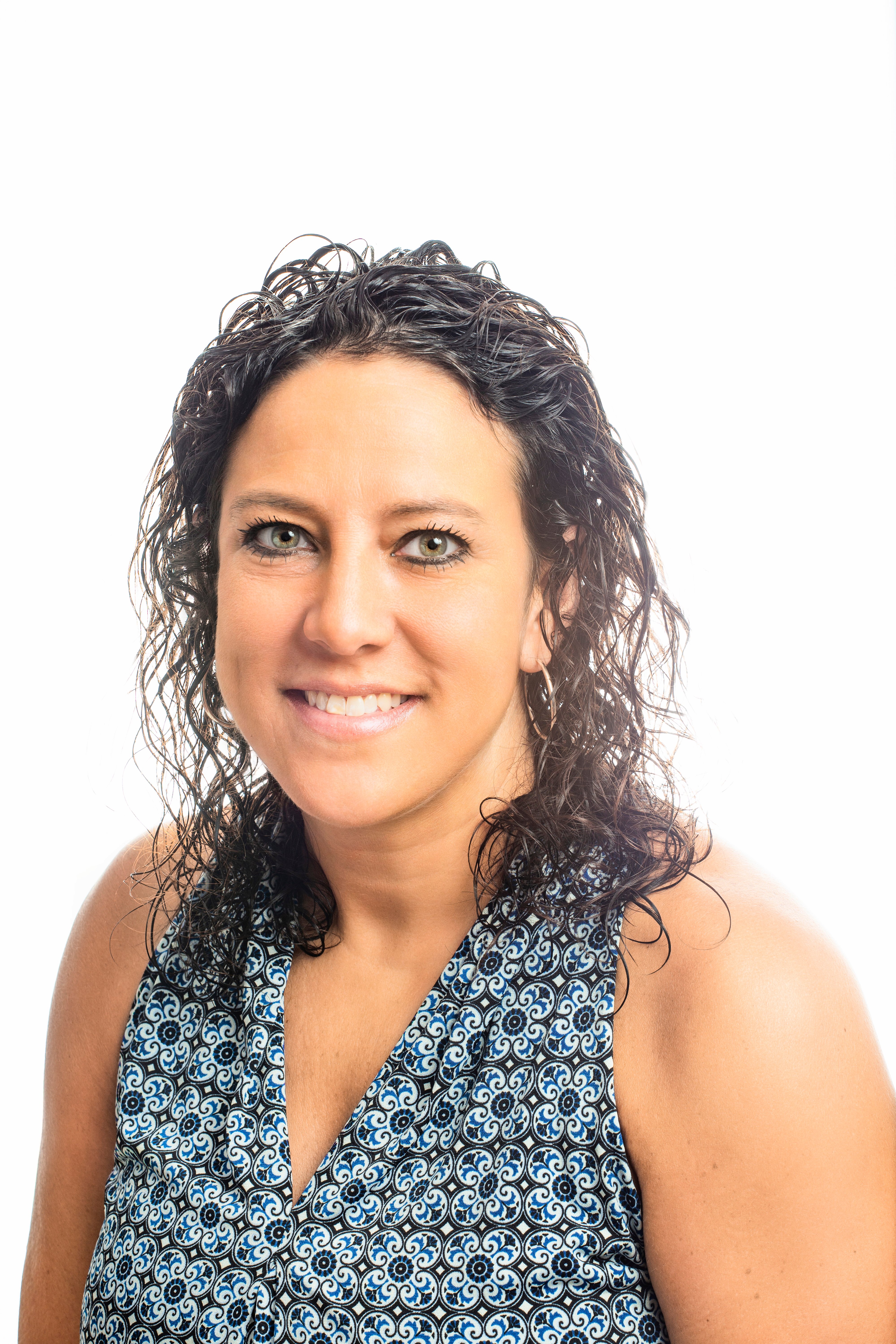 4 Tools to Help Associations Thrive in Times of Adversity
Marketing Automation | member engagement | Email Automation | member conversion | member retention
We all know that every crisis is an opportunity, but there are some crises that are so vast that it's hard to see a silver lining.
2020 has offered a once-in-a-generation crisis, with a tragic pandemic leading to global economic uncertainty. It's a tough time for professionals and a tough time for businesses, which is why associations are more important now than ever.
What associations need to do in a crisis
Businesses need help, and associations are stepping up by providing guidance, fostering collaboration, and lobbying for support. Members expect a lot from their association right now. Each association needs to be:
A guiding light in uncertain times
Your members are facing unprecedented uncertainty, with no guarantees about their customer, their businesses, or even their jobs.
Associations are invaluable in a time like this. You offer a platform for members to share knowledge, update best practices, and monitor an evolving marketplace. High-value content, such as educational tools and original market research, can help members to weather the storm.
An instigator of change
Change can be a positive thing in business. It's a chance to grow, to evolve, and to build enterprises that will thrive in the coming decades.
Associations can help to guide this change and ensure that their industry moves in a positive direction. You do this through education and up-skilling, by offering development programs to help graduates, and by lobbying for business-friendly legislation.
Innovative under fire
When an industry faces a real existential crisis, they need to innovate to survive. To do this, they need visionary thought leadership that's based on substantial research.
This is where associations really shine. Associations bring together the best and brightest from each industry. Association members work together to develop new solutions, products, and best practices in the face of adversity. By working together, association members can find creative ways out of challenging situations.
4 tools to thrive in a crisis
Industries need associations to help them through tough times. But associations need members. When membership is declining, the association's power also starts to decline. If an association collapses entirely, members will be left entirely stranded.
For that reason, it's each association's duty to focus on growing numbers, diversifying revenue streams, and building engagement with members. Luckily, there are some tools that can help you, even when times are hard.
Here are four strategies that will help your association grow:
1―Shopping cart abandonment capture
The shopping cart can often be the most fragile part of the buyer journey. In the world of B2B, 76% of customers end up abandoning their shopping carts before they confirm their purchase [Salecycle]. Often this is due to an overly complex sales process, which is why retail services like Amazon encourage customers to set up 1-Click Purchasing.

Associations often have a lengthy online sales process with detailed forms for the customer to fill in. As a result, incomplete purchases can often happen, with purchasers turning away at the very last second.
Shopping cart abandonment capture tools can help you reconnect with these prospects. The tool sends a short sequence of emails to customers, reminding them that they can still complete their purchase. B2B organizations that use this technique report an 11% conversion rate [Moosend].
This approach offers a number of vital wins:
Quick-win revenue increase: Shopping cart purchases are usually related to revenue-generating content, such as conference registrations and learning packages. The revenue generated from these sales can offer a quick return on revenue.
Sales process insights: Why is your buyer journey breaking down at the final hurdle? By scrubbing insights from these users, you can learn more about why they dropped out of the sales process.
Create a sense of urgency: Your leads might be delaying their purchasing decision until they feel a little more ready to commit. With this strategy, you can urge people to take the plunge today and complete the purchase.
2―Bottom of funnel re-targeting
At the other end of the scale, you have web visitors who have shown an interest in a product, but who haven't yet entered a sales funnel.
Perhaps they consumed some content, like a blog post or an educational video. Or they may have gone to the membership pricing page, which shows they might be interested in joining.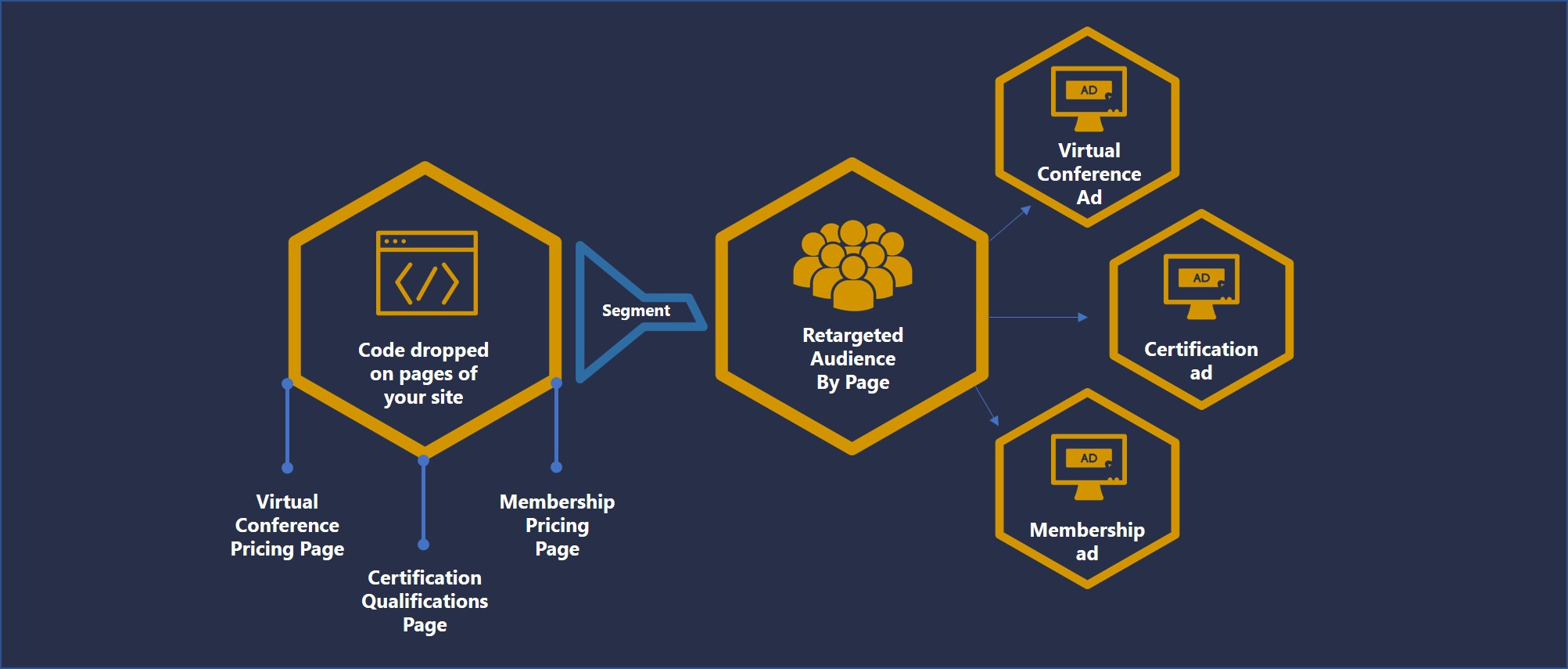 Retargeting is when you display targeted ads on another website. To do this, you'll need to drop a cookie on the visitor's browser. When they visit other websites on the internet, those sites will detect the presence of your cookie. That cookie will serve up your targeted ad so that your brand stays top-of-mind with your buyer.
So, for example, someone visits your site and navigates to your conference site. Later on, they're browsing the internet and they see an ad for your upcoming virtual event with a plug for discounted registration. They click on the ad, return to your site, and book the discounted registration for next year's event for greatest savings.
A retargeting tool will allow you to:
Identify bottom-of-the-funnel visitors: You'll know how to target these users because the very pages their visiting will indicate where they are in the funnel (i.e. registration pricing page, etc.)
Improve the effectiveness of lead generation: You'll be able to generate more detailed leads from your lead gen sites, as you lure visitors back with targeted offers.
Better audience segmentation: You'll start to see some commonality between different types of website visitors, allowing you to segment your audiences and build buyer journeys around them.
3―Marketing automation insights campaign
Marketing automation is an iterative process. Each time you interact with a potential lead, you learn a little more about your audience. This knowledge helps you to refine your approach, which improves your chances of converting future leads.
You can use marketing automation for the specific purpose of gathering this knowledge. Targeted marketing campaigns with great content can attract visitors, build engagement, and help you learn about how your audience is evolving over time.
Associations are in a perfect position for this exercise, as they already have so much excellent content at their disposal. You can develop high-engagement content strategies that attract people to your site, and that visitor data can help you study your audience.
This strategy can help to:
Round out your personas: Data from these campaigns can help you build detailed member personas. These will improve the accuracy of future campaigns.
Round out your marketing: You'll discover where you need to optimize your content offerings, marketing automation or sales funnels.
Diversify your paid programs: Insights from automated marketing can help you pinpoint gaps in your programming. This will guide you when making vital decisions about your programmatic (paid) offerings.
4―SMS texting to inform
We have dozens of communication platforms these days. Slack, LinkedIn, and Skype were all well-established before the Covid-19 crisis, while Zoom and HouseParty became familiar staples during lockdown.
But the most effective digital communication channels are two relics of the 20th century: email and SMS. Text messaging is sometimes neglected by association marketers, but since 97% of American business professionals are always within three feet of their cellphones [Morgan Stanley], and SMS works even when you don't have a data connection, SMS is a solid option when used in a thoughtful way.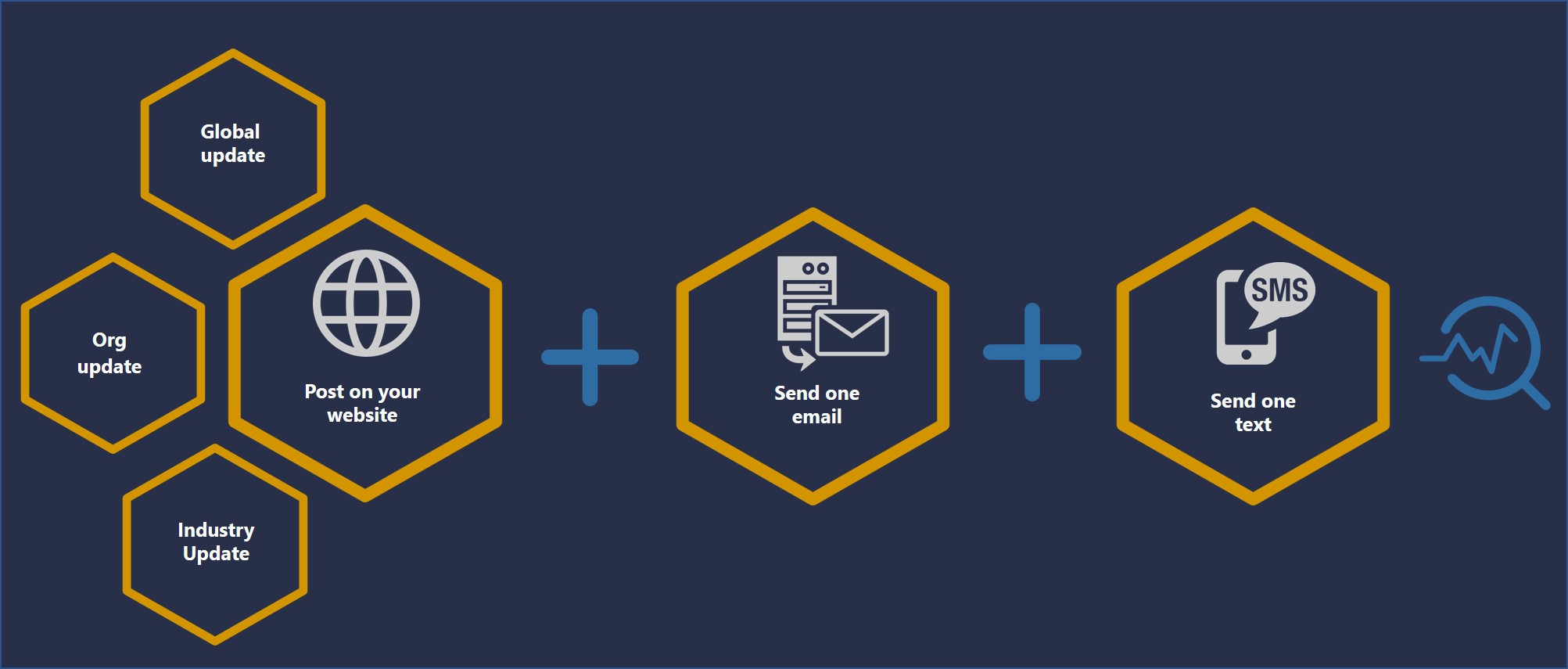 By carefully using SMS, you can boost your engagement with members. The following model works best:
Post content on your website
Notify members with one email
Notify members with one SMS
As with all marketing, this tool needs to be pragmatically used as part of your larger communications portfolio. It's easy to block SMS on a smartphone, so members should only receive timely, relevant, and useful text messages.
SMS can help you to:
Provide industry updates: Let members know about important industry trends that will have an impact on their business.
Provide organizational updates: Make sure that everyone is up-to-date with ground-breaking association news. This is especially important in a time of uncertainty. For example, you may need to send SMS messages to notify members that a conference has moved online due to Covid-19.
Provide global updates: Members also need a trusted source of general news, especially information related to Covid-19. In a world of conflicting information, your members will appreciate a succinct, informative text message that cuts through the clutter.
Moving on from Covid-19
Before the coronavirus pandemic, many associations were struggling to maintain membership numbers. Millennials and recent graduates were already not seeing as much of a need to join an association, especially when they had online alternatives for education and professional networking.
As such, this crisis is a perfect opportunity to demonstrate―and in some cases, reface―the value of association membership. Each member needs a support structure to offer them advice, guidance, and a clear path through the challenge. They need access to data-driven research and quality educational materials. They need to connect with their industry peers and speak with one voice when lobbying.
But all of this depends on the association working behind the scenes to recruit members, build engagement, and increase revenue streams. A strong association benefits everyone, and it will help us to prepare for better times ahead.
---
Access our webinar to learn more about this topic
Want to hear more about these vital communication and growth tools? Check out our on-demand webinar, Turning Lemons to Lemonade: Revamp Your Go-to-Market Approach for Success.
About Aimee Pagano
Aimee joins HighRoad Solution with 15+ years of integrated marketing and communications experience, primarily in client-facing roles within the association and SaaS space. Her specialties include persona development, content strategy/management, lead gen and awareness campaign development, and website development/optimization.