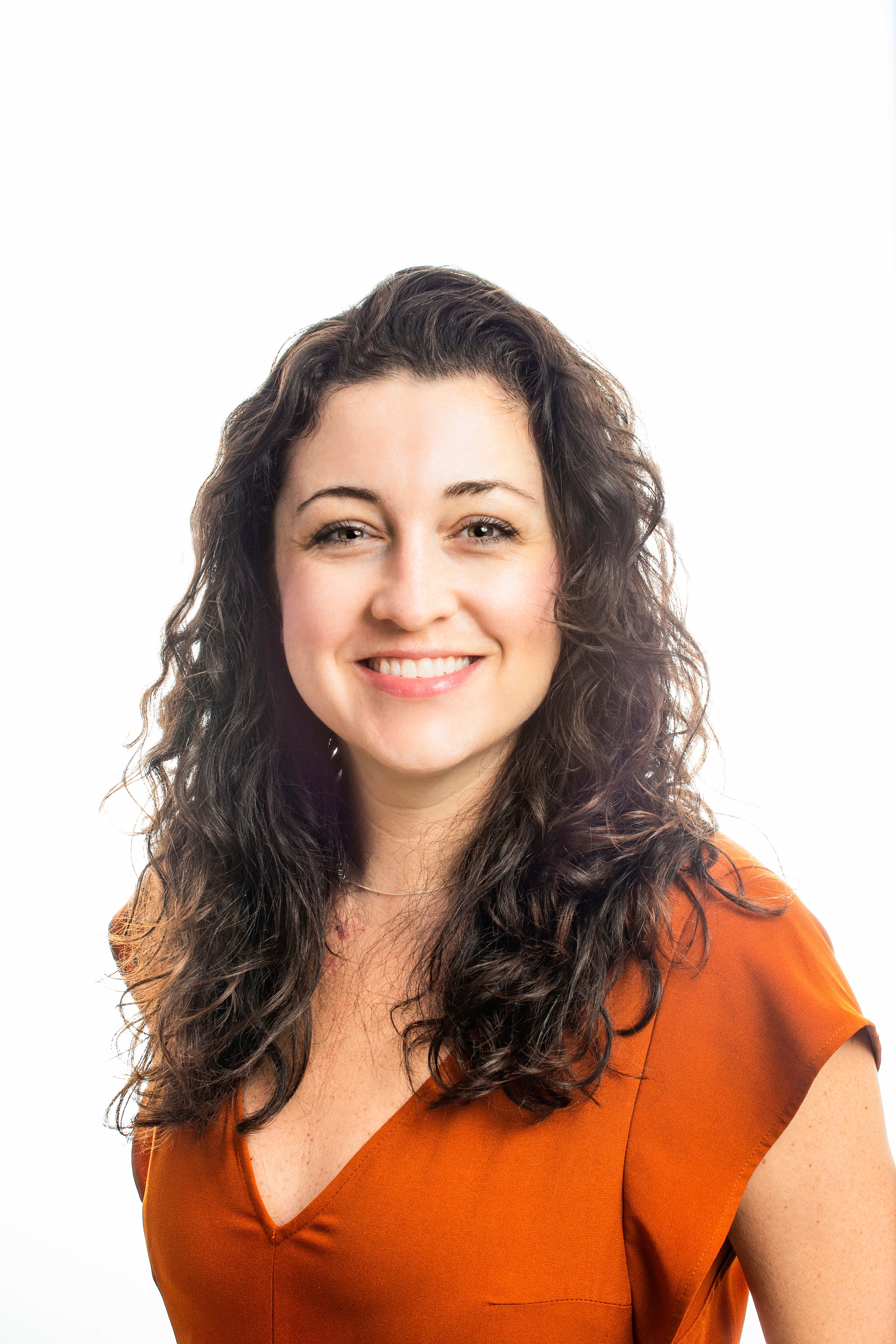 Product Spotlight: Retargeting in SharpSpring With Perfect Audience
Recognizing market needs, SharpSpring, the leading marketing automation platform for associations, has released its retargeting feature to complement its already robust functionality. While version 1.0 of the tool is officially live, full integration with SharpSpring, which will allow for better segmentation and reporting, is still in beta.
As a SharpSpring partner, HighRoad has been getting granular with the tool prior to its official release. For those SharpSpring users or for those considering the SharpSpring platform, here are some best practices to help you navigate this valuable new feature.
Best Practices for Retargeting with Perfect Audience
When getting started with a retargeting campaign using any tool, there are basic best practices to follow. These are things to think about before you even turn the new feature on in your SharpSpring instance. Review these tips below and make sure you are ready with all of these components for setting up a successful retargeting campaign.
Get a handle on your metrics
First, you'll want to collect some baseline insights. Running multiple ad campaigns at once will help you get a feel for your landscape. Focusing your first audience on all website visitors hitting your home page is a good start. This way you get a solid idea of who's visiting your website and leaving so that you can drill into what's impacting their exits. You'll also be able to create some brand awareness so that you're staying top-of-mind for visitors that do choose to leave. Then drill into your secondary navigational pages, which typically house your programs and services―or your revenue generators. For instance, focus on audiences that hit your membership page or virtual conference page. You can yield exit insights and build even more targeted content for these audiences.
Diversify and test your content
Next, within each of these campaigns, you'll want to have multiple ad types and sizes. We recommend starting with the most popular sizes at a minimum: 300 x 250px and 728 x 90px. Then, create two of each to A/B test the best performing ad of the two. This ensures your ad spend goes towards the highest yielding ad with the best offer. Running multiple ad sizes ensures you show up across different mobile and desktop users. However, there is a limit. You don't want to exceed 10-12 ads per campaign as this will spread your ad spend too thin.
Don't over-generalize
Even with evergreen ads, you'll want to make sure you're getting as relevant as possible when it comes to your audiences. Here are some tips on avoiding generic ads:
Choose content that's going to perform by basing it on your personas
Use catchy or even controversial titles to draw your readers in
Ask a question or share a compelling or even thought-provoking statistic
Use relevant incentives and offers with clear calls to action
Create a seamless journey
Finally, think about the experience for all users, including those who may or may not have already converted on one of your campaigns. Set up exclusion audiences to omit those who have already converted by landing on your thank you page; for example. This will ensure your ads stop surfacing for visitors who have completed your desired outcome. You'll also want to define the duration for the audience you're targeting. We recommend running campaigns for a maximum of 30-60 days. Going longer may require some heavy management and navigation around your sales cycle.
Three Steps for Setting Up Ads With Perfect Audience
Step 1: Create an Audience
As soon as you turn on Perfect Audience in your SharpSpring instance, your audiences visiting your tracked domains will begin to grow. You'll set up more targeted audiences for tracking as well. At this point, you'll want to ask yourself three questions:
Who am I attempting to retarget?
What is the desired outcome for my retargeting efforts?
How long will I be tracking my retargeting audience?
Starting with the "who," you can take web page / domain tracking even further with the following methods:
Querystring
Querystring is for UTM parameters. You may want to create an audience that comes from a separate domain link on a social media page. For tracking a Facebook post, you will tag your link with a UTM parameter and correlate that UTM in the Querystring.
Event
Setting up an event requires a developer to apply some JavaScript. The best use case for events are CTA buttons. For instance, you place a button on a page and you track the audience that sees that button, but doesn't click. From here, you can create "follow-up" messaging to encourage them to take action on that button.
Email
The email method puts a pixel in the email that you send out as part of this campaign. Anyone who opens that email will be added to your audience.
This email method can be the quickest way to grow your audience. If you have warm leads in SharpSpring, you can send them relevant messaging to pull them into your nurture campaigns.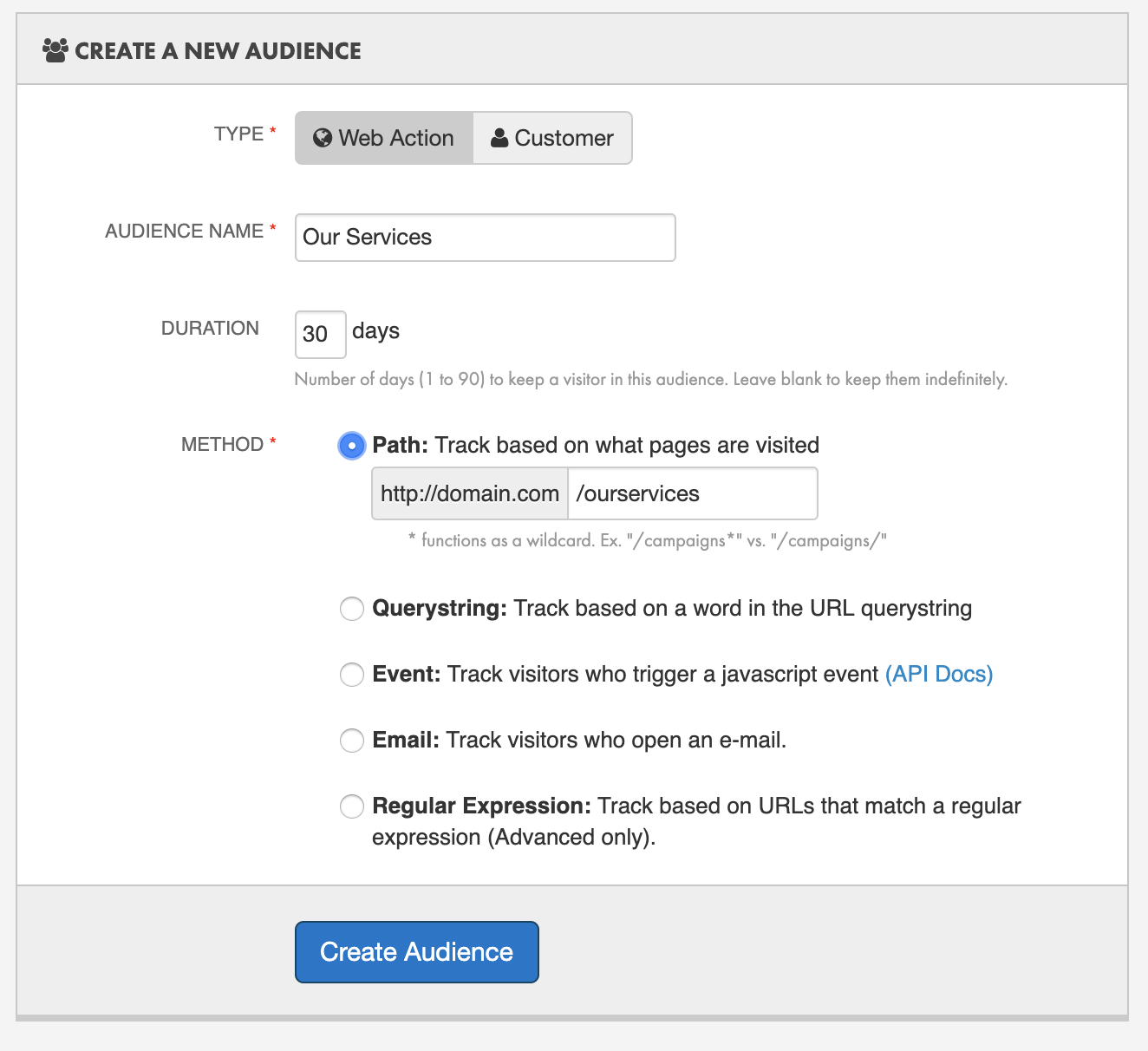 When you're talking about the "what," you'll want to define your goal (AKA conversion point) and further refine your audience:
By Conversion
When you set your audiences up, you'll also create your conversion audience. This audience is built upon your definition (and associated criteria) of success. During set-up, there's an area where you can specify duration. We recommend leaving this blank because this, in theory, should be an indefinite audience.
By List
Once you've created your inclusion and exclusion audiences, you will toggle between who to target and who to remove from your ad.
By IP Address
Retargeting ad campaigns give you the option to exclude designated IPs from receiving your ads. To preserve your ad budget, you may use this feature to exclude the IP at your office, so you are not targeting your own employees.
By Geography
The final steps to setting up your audience is to set up any geo-targeting and day-partying for your ads.
In terms of "how long," we recommend starting with the standard increments of 30 or 60 days. You might further optimize your ad spend by limiting your ads to weekdays if you determine that you are unlikely to have relevant traffic on the weekends.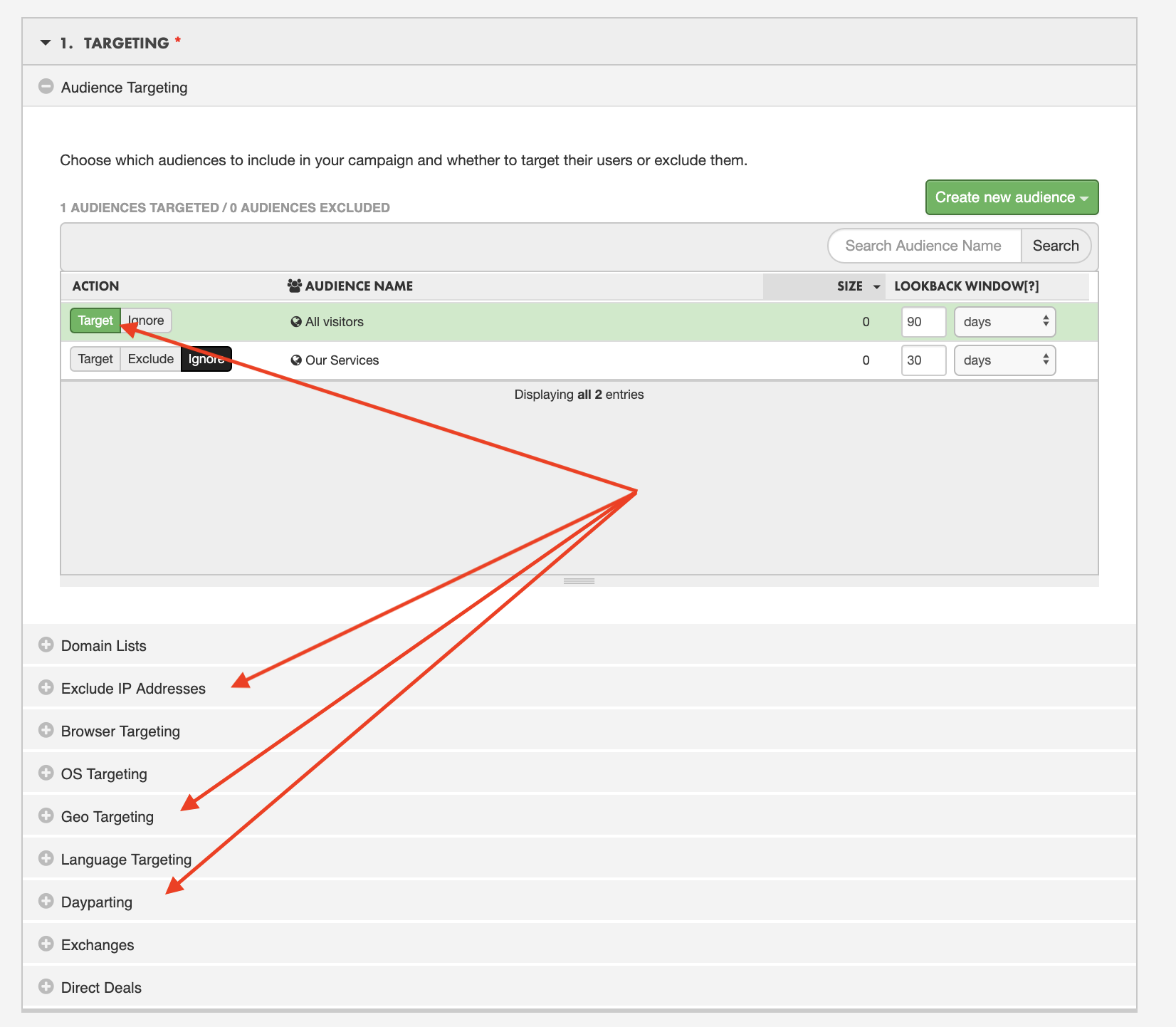 Step 2: Setting Up Your Ads
Once you have your ad sizes ready, you'll simply upload and name your ad for each file. Naming your ads helps to differentiate the ads for reporting. Once you've submitted your ads, Perfect Audience will divvy up your budget evenly.
For example, Perfect Audience will take your max budget and divide that evenly by the number of days running the ad. If you have more than one variant of your ad (example: you have one 300 x 250 pixel ad and one 728 x 90 pixel ad), it will split that daily budget among the ads you have in order to serve them to customers equally.
So, let's say you have 10-12 ads, you might not have enough budget to spread out by day and by ad size and you'll be out-bid for the impression.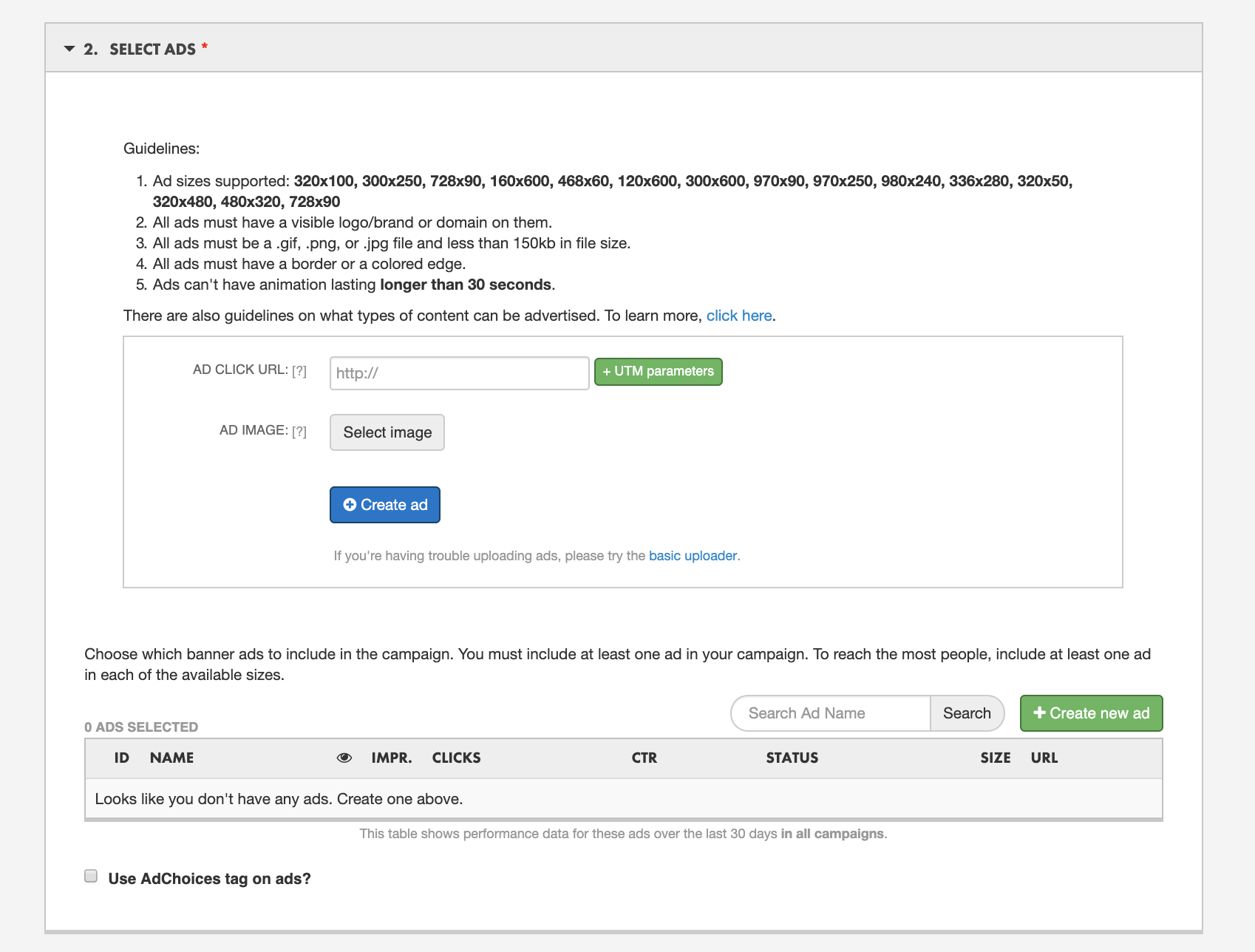 Step 3: Finalizing Campaign Details
If you are starting out, it doesn't hurt to set a simple budget of $100 for a short period of time to get some practice under your belt. You can submit your ads to start immediately, or schedule them to start at a specific time. We recommend leaving it defaulted to allow the Perfect audience algorithm to optimize your bidding for optimal impressions. At this stage, you might have a specific value for what a conversion means to your organization, but if you don't, it's perfectly fine to leave this value blank.
Reporting
As part of any good ad campaign, you'll want to monitor and evaluate your results and make adjustments based on those findings. Stay tuned and subscribed to our blog as we dive deeper into the reporting aspect of SharpSpring's Perfect Audience next month.
Getting Started
While SharpSpring is still rolling out the Perfect Audience feature to all agencies and organizations, version 1.0 is now available to all SharpSpring users with tons of more functionality to come.
So, if you're a SharpSpring user and you're looking to get started with the basic level of functionality to test it out, navigate to the top left of your workspace where you'll find the Perfect Audience icon which, aptly, looks like a "Target" icon. Clicking this icon will take you into the Perfect Audience interface where you can begin setting up your audiences. From there, follow the steps outlined in this blog to get started with your first campaign.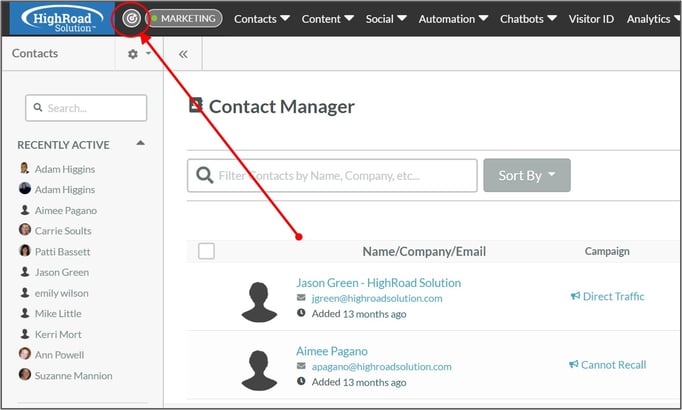 ---
Consider SharpSpring for Retargeting and Beyond
If you are not a SharpSpring user yet but you're interested in testing out Perfect Audience, we can get you set-up. Keep in mind that SharpSpring is the leading marketing automation tool for associations, of which Perfect Audience is just one piece of the puzzle. The platform is built with robust lead gen, nurture, and sales enabling capability. The new retargeting addition simply creates an even more powerful and seamless journey for buyers.
If you would like to get started with Perfect Audience and you are not yet a SharpSpring user, Schedule a Demo.
About Emily Nash
With a unique background in start-ups-to-studios, and consulting-to-corporate settings, Emily specializes in solving for unknowns, pioneering new services, and collaborating with marketers and strategists. In her community, she served on the board of American Institute for Graphic Arts as their Communications Director to help promote networking and mentorship opportunities for area designers and creatives. She's also a co-producer for Rethink Association, a podcast for associations.