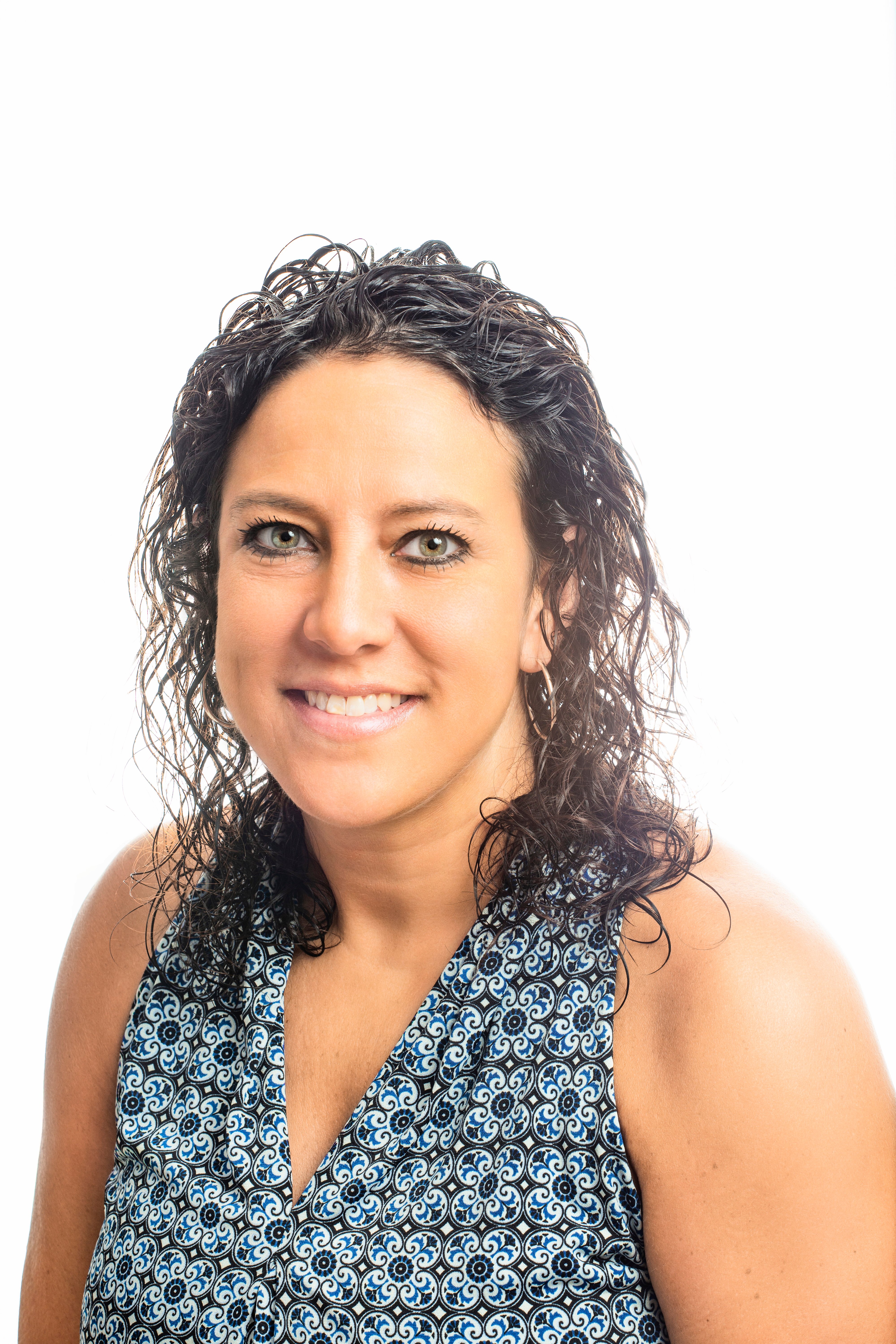 Productize your content through new revenue models
Lead Generation & Growth Strategies | Change Management | Data Analysis | Membership Growth | Adapting new technologies | member retention | data integration
As you, your fellow executives and board members gaze into the future, you may be throwing around or even "test driving" ideas of new models to diversify your revenue streams and change how you monetize your content. This could be due to revenue declines, or just the need to adapt to new market drivers.
Whatever the reason, you're not alone. Over the last few years, a majority of associations have reported difficulties in membership engagement and growth, and have turned to innovation before degradation.
Declines in engagement trends can be attributed to a number of cultural and environmental factors influencing market shifts. For instance, major events such as the COVID-19 pandemic changed the scope of doing business.
There's also
generational changes
happening as more millennials and Gen Z enter the workplace. These new generations each possess strikingly varying behavioral attributes compared to their more seasoned counterparts.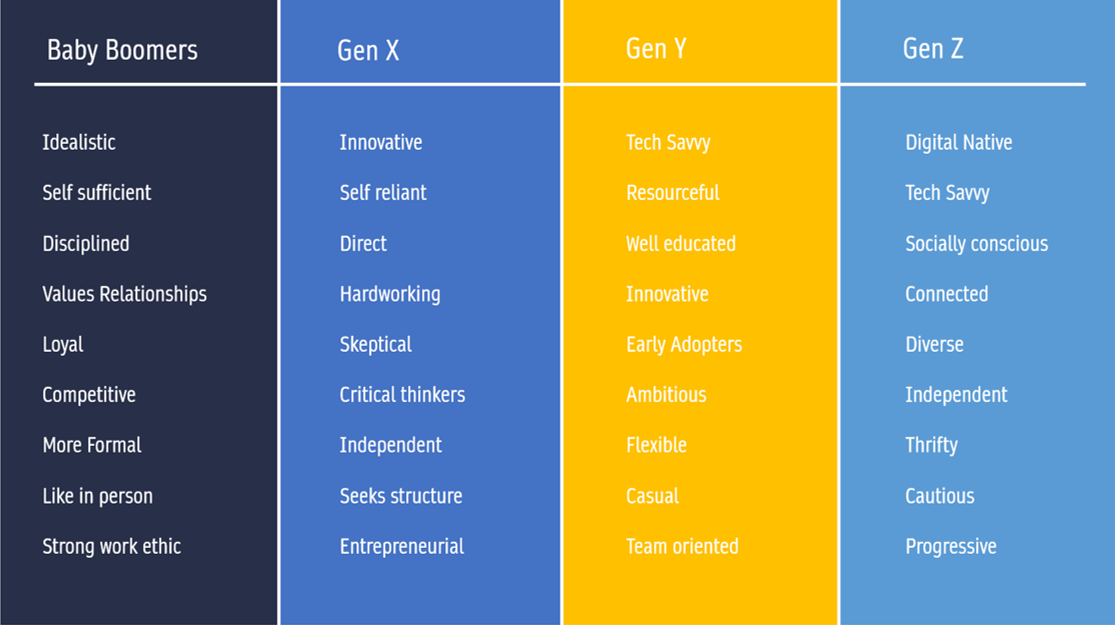 For example, Gen Z'ers are typically known to be more independent, progressive, and socially conscious as opposed to their neighboring millennials, who are tagged as team-oriented, innovative, and ambitious.
Generational uniqueness impacts buying behavior and experience expectations, forcing associations to adjust their marketing, whether content topics, content formats, or delivery mechanisms.
All this said, diversified revenue models are a viable solution to membership growth and obtaining new income sources. So if you're looking to explore new ways to offer the best value to current association members and potential new markets, where do you start?
It's important to start with some self-evaluation on what your association looks like today compared to what you want it to
look like moving forward
. You can start your "spiritual" marketing review by asking yourself some key questions:
Do you have the right audiences for our content and campaigns?
Is there a clear understanding of your value prop?
Are you perceived as a legacy brand?
Are you effectively addressing all of the needs in your industry?
Do you have packaging, pricing, and programming for new audiences?
Can your current revenue model keep you afloat?
Does your technology stack support your revenue goals?
Can your association handle a revenue model change?
These questions can be answered by reading the story in the data. General trend metrics like transactional engagement, behavioral engagement, membership renewals, and new member growth will tell you whether or not a change is necessary.
For instance, if you're seeing a huge decline in membership retention, you could be under-communicating your value proposition, or you could be missing the mark on addressing industry-specific needs through programming. Nevertheless, declines in any general trend metrics calls for the exploration of new revenue models.
Revenue model options and indicators for each
Based on your soul search findings, use the chart below to assess what revenue model (or combination of) may work for your organization based on key indicators.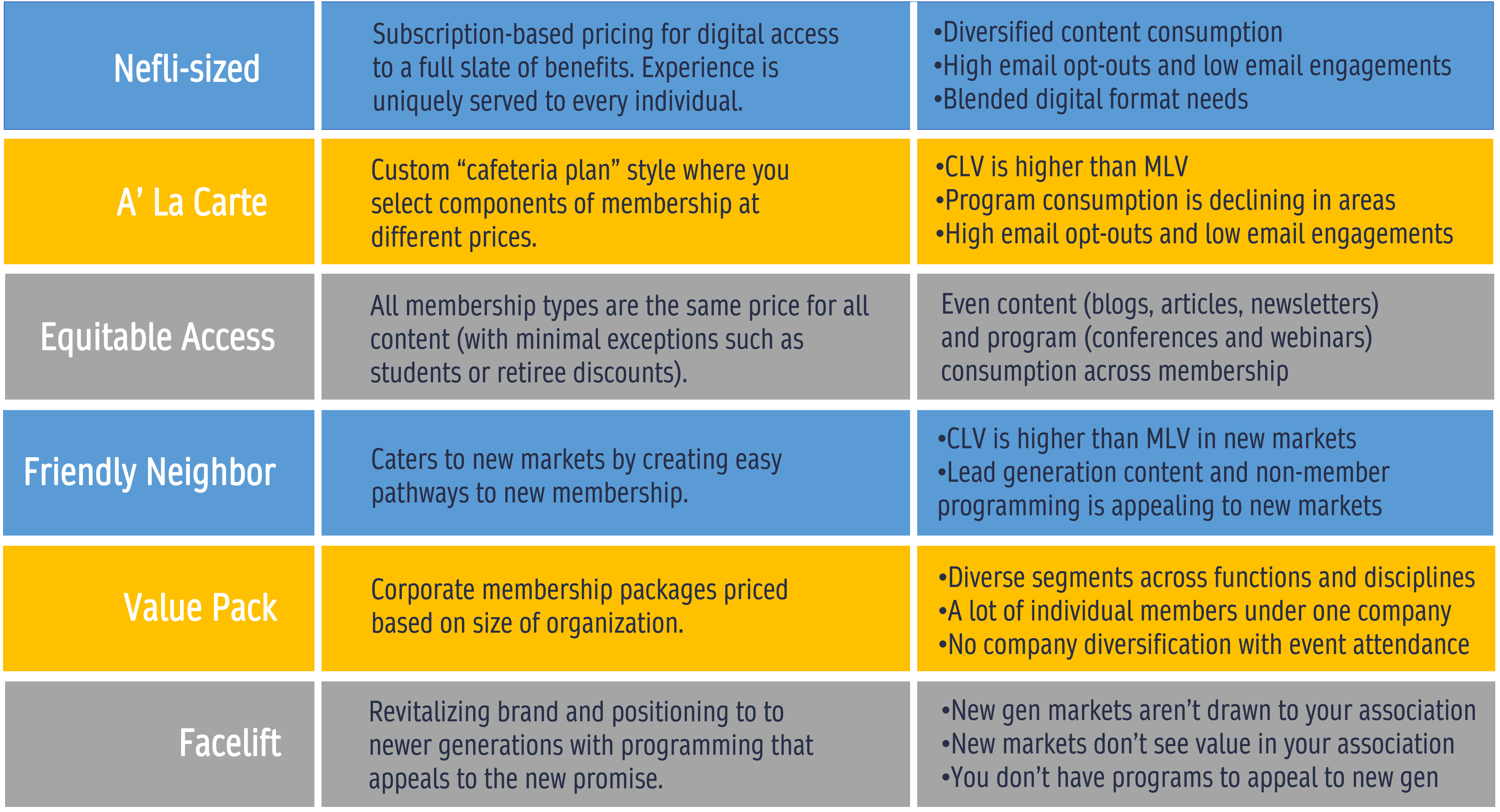 Building an Indicator Framework
Having the framework to help you identify the right revenue model starts with the right technology stack. You and your team want to ensure that you're taking advantage of digital marketing automation platforms such as HubSpot, SharpSpring, and Adestra, as well as other content execution platforms like Big Marker or Zoom Video Webinars to streamline content development and deployment activities to fit your model.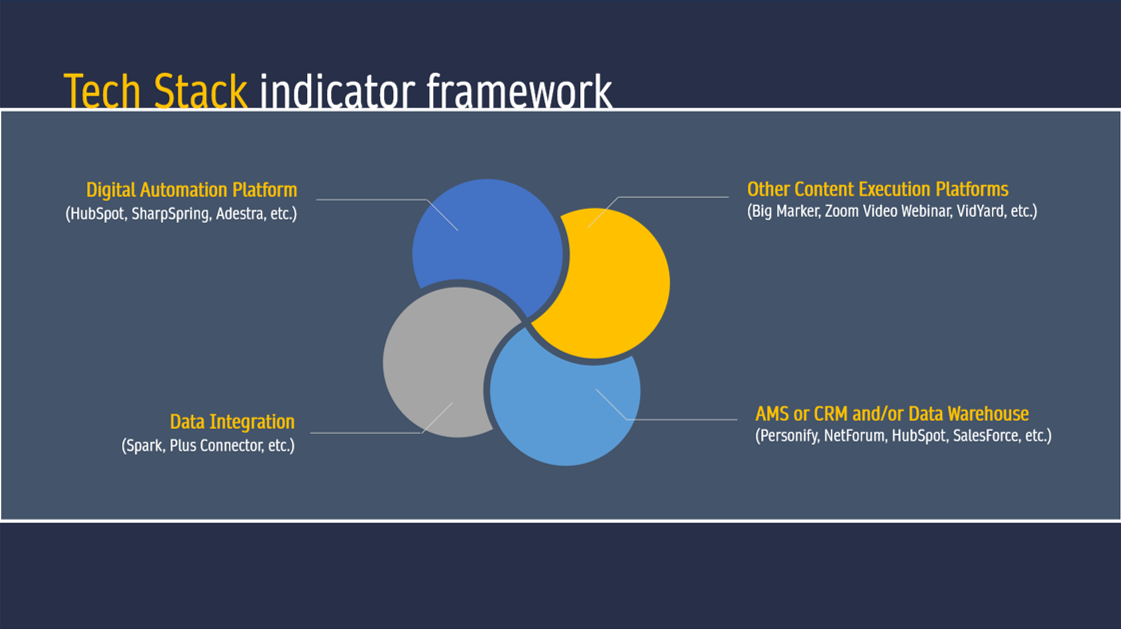 There also a need for continued, heavy emphasis on data collection and analysis. It's best to use solutions like Spark or Plus Connector for data integration in conjunction with your association management systems (AMS) or customer relationship management (CRM) systems.
This allows your marketing team to auto-process information to gain real-time insights on demographic/firmographic data (such as membership applications), psychographic data (personas), behavioral data (content downloads/views), and transactional data (registrations to webinars). Plus, it makes it easier during intelligence gathering when you can identify thresholds, trends, and quickly to make decisions straight from your system dashboard.
You can also take inventory of other existing data sources such as surveys, interviews, predictive analytics, and industry insights as part of your framework to fill in some of your data gaps. Establish which metrics you're collecting, the audiences you plan to target, channels you want to use, and what a successful new model would look like from a measurable point-of-view.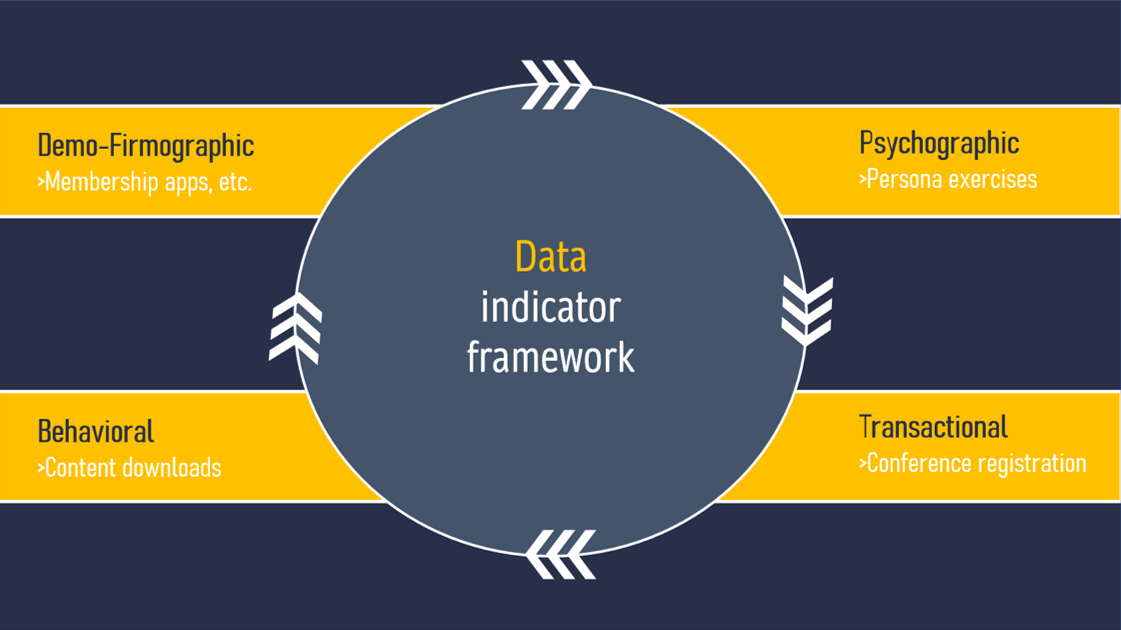 The ultimate purpose of combining a strong technology arsenal with robust data management is to evaluate readiness to move to a new revenue model, properly execute the implementation of the model, and see the impact of it once it's in place.
As you move forward into the realm of positive and thoughtful change, consider the below framework to help you navigate where you need to be from an organizational, and member- and customer-centric perspective.
---
Not sure where to start? We can help.
Whether your association is struggling in self-evaluation, indicator analysis, or in building a framework for your new models, we are here to guide you every step of the way. Book a consultation with us to get started on your martech strategy today.
About Aimee Pagano
Aimee joins HighRoad Solution with 15+ years of integrated marketing and communications experience, primarily in client-facing roles within the association and SaaS space. Her specialties include persona development, content strategy/management, lead gen and awareness campaign development, and website development/optimization.