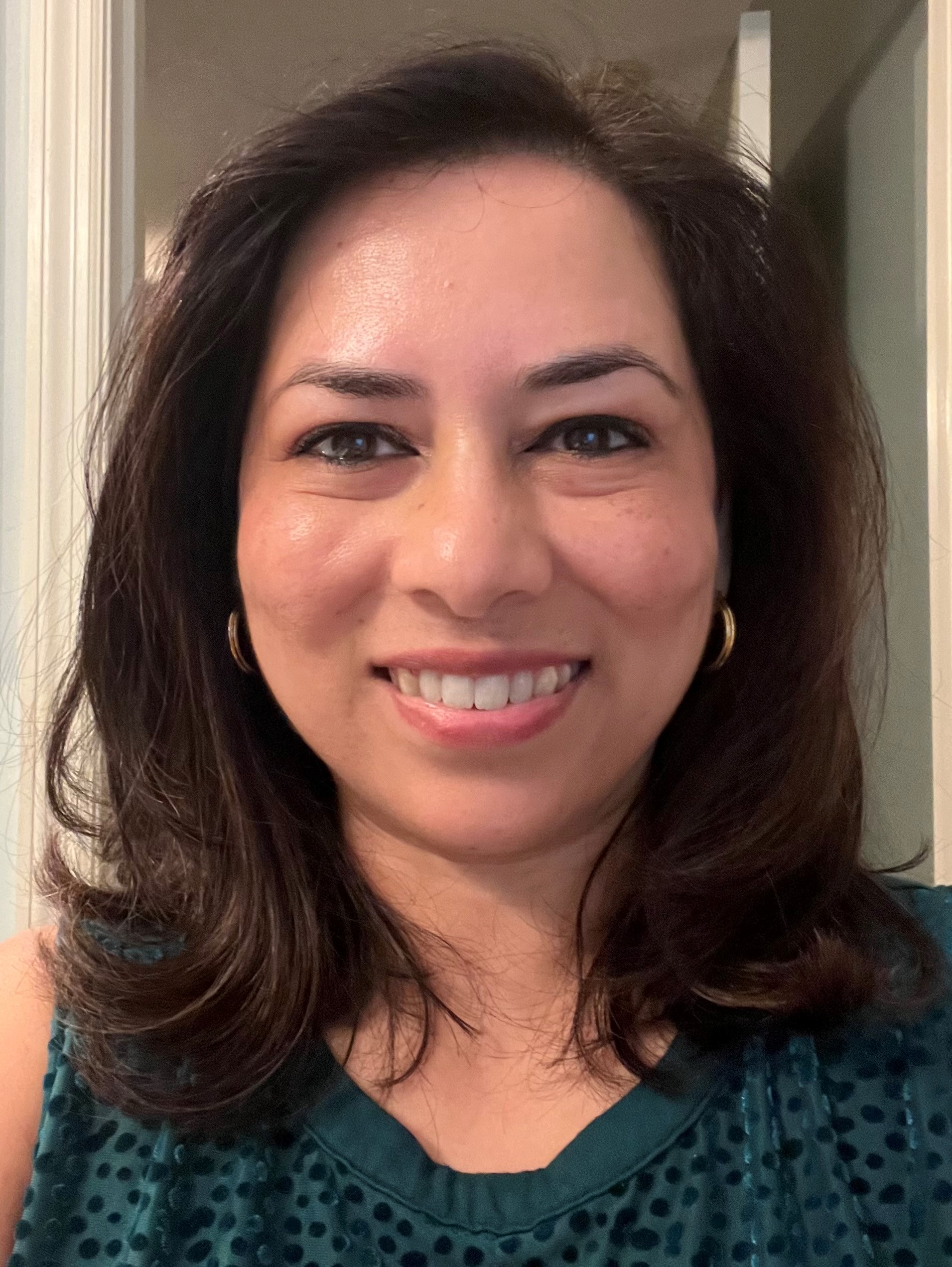 How to put together an experiential virtual event
Lead Generation & Growth Strategies | member engagement | virtual conference
2020 has been a year of disruption, anxiety, and change. We've had to rethink the ways we engage with our friends, loved ones, and co-workers. We've used new technologies to help our children learn and to maintain our own professional connections.
From grocery stores to doctors' offices to public transportation, no area of our lives has gone unaffected by COVID-19 and its ramifications. As marketers and association professionals, we've had to rethink the ways we deliver on our core promises to members—
namely, networking, and education.
From associations, to member-based companies, to for-profits, in-person events have proven to be the most largely impacted revenue generators.
While it may seem daunting to transform a hallmark annual event, one that members look forward to and plan for months in advance, into a virtual experience, it's really all about digitizing your content in a way that's meaningful to your audiences.
So, how do you capture the energy of a live event via screens? How do you keep your attendees engaged? How do you convey your message in a powerful way without seeing each other face-to-face? Well, everyone has their take on bridging the experiential gap from onsite to online.
Here's ours...
When you first set out to transform an in-person event into a virtual one, think of it as exactly that—
a transformation, rather than a direct translation. You may find that certain elements of your in-person event simply don't translate with a virtual delivery, and you may find that some elements need to be re-imagined in order to maintain the intention and impact behind them. Rather than dwelling on the pieces you feel like you're
"losing"
or
"changing,"
try to focus on the opportunities you have to think creatively about your new event.
Let's break it down in a step-by-step process.
Set your goals

Assemble your team

Develop your ideas and content

Select the right technology

Involve leadership

Spread the word
1. Set your goals
First, let's talk about goal setting. Establishing the right goals for your virtual event is critical—
and it should be the first discussion you have. Before you select a theme, session topics, or even a virtual platform for the event delivery, you need to be really clear about the goals you're hoping to achieve through this event. Why are you having this event? What are you hoping your attendees will learn or gain from it? How many individuals are you hoping to reach? There needs to be a clear reason why you and your team are planning this event in order for it to have an impact.
Here are some tips as you sit down to set your goals:
Make sure your goals are big enough to motivate your team while still being attainable and realistic.

Set balanced goals;

keep an eye on both retention and growth.

Clearly communicate the goals to your team, and set sub-goals where necessary or appropriate.

Use the goals as a guide when budgeting and prioritizing specific event elements.
2. Assemble your team
Under ordinary circumstances, you likely have a go-to team of event planners and program planners who handle your in-person events. And maybe it makes sense for those same individuals to plan your virtual event. However, we found great success in assembling a diverse planning committee so that each team within our organization is represented. If you take a step back and think of your virtual event as an entirely new experience, it makes sense to bring together individuals who have varying perspectives on your industry, business, or members.
Our planning committee was tasked with idea generation, and they met
weekly
to brainstorm themes, topics, and trends within the industry and best practices for virtual events. In order to encourage creativity, we told the planning committee to initially focus only on the what rather than the how. This shift gave our planning committee the freedom they needed to really think outside the box about the content and themes that would resonate with our audience without feeling hindered by answering the question of how the event itself would be delivered.
Quick tips:
Consider inviting or selecting individuals from a variety of departments or teams within your organization to bring fresh perspective to the planning process.

Involve the planning committee in your goal setting process where appropriate, or clearly communicate the goals as determined by the leadership team.

Enable your planning committee to think outside the box by encouraging creativity and initially removing the question of

"how."
3. Develop ideas and content
After you've set your goals and assembled your planning committee, it's time to brainstorm and research ideas for event themes and content. Keep in mind that it's more important than ever to
"break
through the noise". W
ith everything going virtual, you'll need to really hone in on creative themes and helpful content that will encourage your members, prospects, and customers to register and attend your event. Your planning committee should first brainstorm themes for the event as a whole. A powerful theme can be woven throughout the event, tying sessions together and really driving home your point of view and narrative.
Here at HighRoad, we found that the virtual delivery of the event opened doors for creativity in the ways we incorporated our theme in graphic design elements. We were able to reinforce our theme visually in ways that would have been nearly impossible during an in-person event.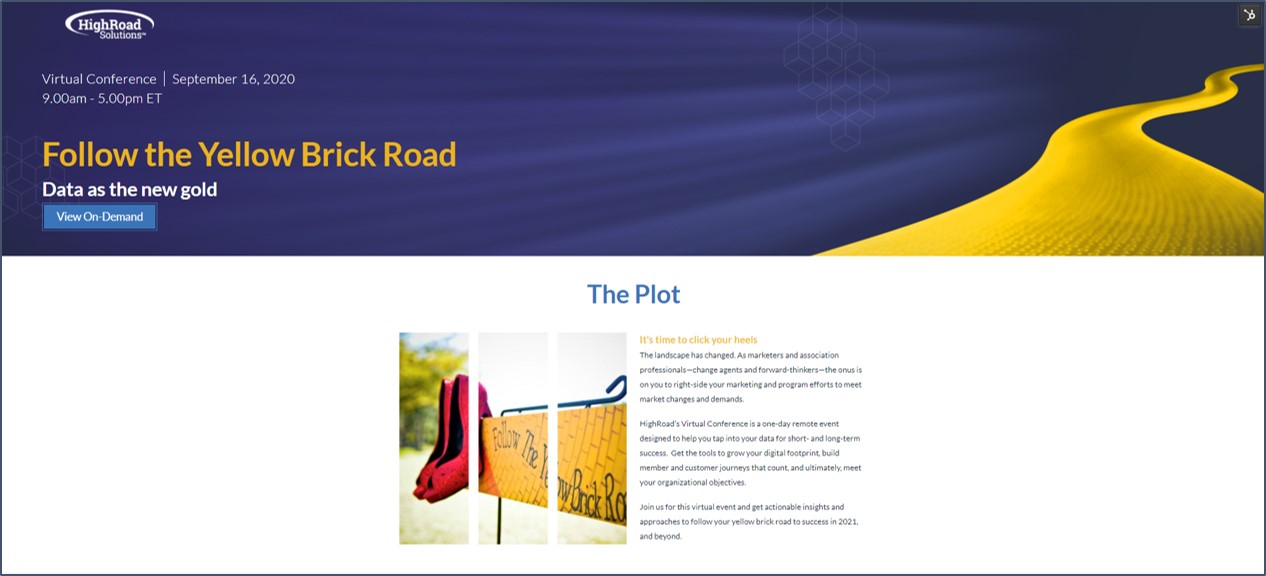 Once you've established your broader theme, it's time to drill down on session specifics. Keep an eye on trends in your industry—
it's important that you present information that will appeal to your audience and keep them engaged, rather than focusing too much on what you want to share about your organization. Be sure you have something
"new"
to talk about—
whether that's a new opportunity for your members or something new happening in your industry. For instance, we announced the launch of our newest integration software,
Spark
, and for our next event, we'll likely release a new update and/or product to keep the content fresh and exciting.
Just as you've looked at your virtual event with a fresh perspective in terms of content and offerings, it's important to think outside the box in terms of session length and the speakers themselves. Consider shortening the presentation portion of your sessions to allow for additional live Q&A time. Keep the event moving quickly but remember to build in breaks to allow your attendees to download content and review information, network with fellow members, or take a break.
Here at HighRoad, we saw our virtual conference as an opportunity to branch outside of our typical
"super
speakers" and involve members of our team who are subject matter experts in their area but rarely speak publicly. It was a great opportunity to present information from a new point of view.
Once you've selected session topics and identified speakers, your planning committee should look to your marketing or communications team to lay out brand guidelines for both the content of the presentations and the visuals used to accompany them. It may make sense for the speakers to meet with your marketing team to outline their session so that brand guidelines and messaging are clear from the beginning. Visuals will become even more important during a virtual event, so be sure that your branded graphical elements are correctly represented on PowerPoint slides or other visual aids. This is also an opportunity for you to weave in your event theme in a graphical way and offer useful content for attendees to download.
Quick Tips:
Nail down your event theme first so that you can weave it throughout session titles and other pieces of the event.

Strike a balance between staying

"on

theme" and

"on

trend."

Consider shortening presentation times to allow for interactive Q&A.

Consider tapping different speakers to share new perspectives.

Keep the tone fun and playful while still being intriguing and smart.
4. Select the right technology
So you've established and communicated your goals, assembled the planning team, and invited them to brainstorm creative ideas for the event. Now it's time to research and select the right tool to execute the event.
We selected BigMarker, and here are some factors that went into our decision-making process:
Automation - We determined early on that we would record the sessions in advance and then open it up for live Q&A. This balance enabled us to avoid unnecessary day-of pressure while still engaging with our attendees in a meaningful way. BigMarker made that transition seamless, and it allowed us to automate the order of the sessions for the entire day.
Interactivity - In addition to the chat feature we used for live Q&A, we also knew we wanted to include some additional branded content in the form of downloads and videos that attendees could view before and after live events. BigMarker made it easy to include intro and outro videos and share useful content for attendees to download.
Ease of use - It's important to remember that, first and foremost, the platform you select should be intuitive for the end user

(attendee),

while also being intuitive for your team to set everything up in advance.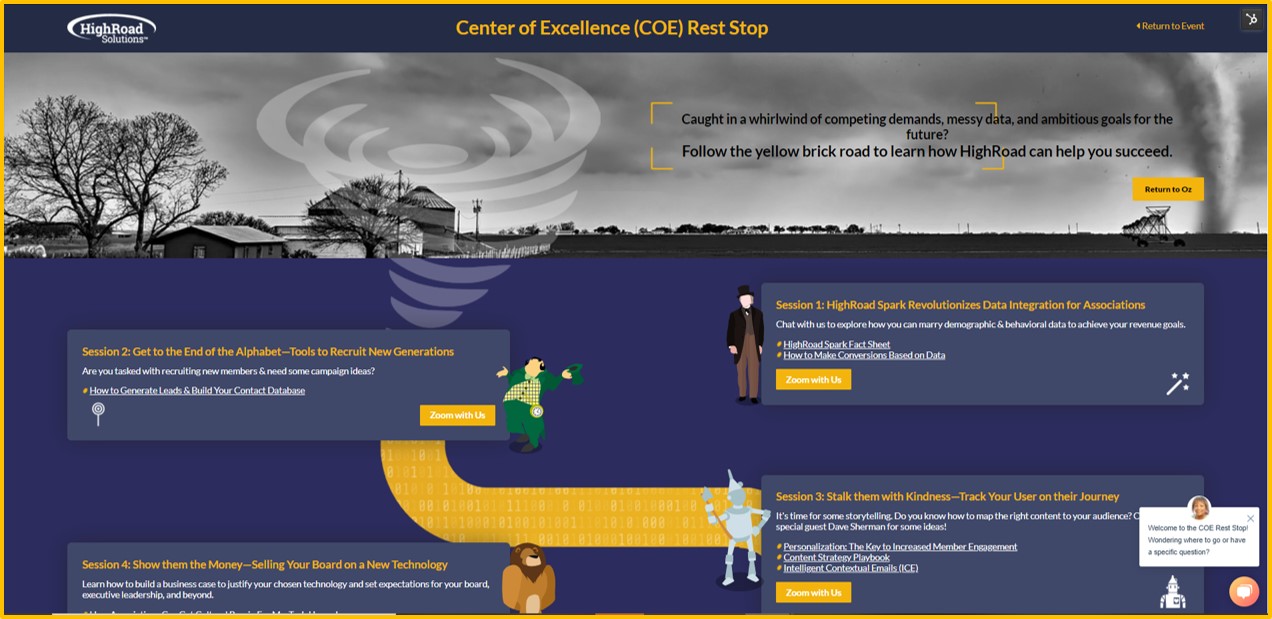 Once you've selected the platform you will use for the event, be sure to plan ahead to give your team ample time to learn the tool and test it. It's critical that you do at least one full
"dress
rehearsal" so that everyone feels prepared for the big day. During your
"dress
rehearsal" or dry run, you and your team will be able to identify and solve for potential hiccups that could occur on the day of your event, helping everyone to feel more relaxed and ready.
5. Involve your leadership team
Just like an in-person event, leadership support is critical in putting together a successful virtual conference. Our leadership team was involved in establishing the goals and selecting the planning committee. From there, the planning team presented their ideas to the leadership team for approval, feedback, or a final decision. In this way, we ensured there was consistent input and support from the highest level in the organization.
6. Spread the word
You'll want to make sure you set aside plenty of time and budget to promote your event and drive registrations. Consider your audience and the goals you've set regarding registrations as you begin to plan your marketing and communications strategy. Your approach to marketing the event will be different based on which group(s) you're trying to reach. In our case, we utilized a combination of owned media
(e-newsletters
and banners on our own site) and paid media
(LinkedIn
and Facebook) to reach a good balance of customers and prospects. In order to create a seamless narrative, incorporate your event theme from the very beginning of your communication plan.
Quick tips:
In addition to paid ads, keep in mind existing

(free)

opportunities to promote your event, such as within scheduled presentations or in your organization's email signature. Your entire staff, along with speakers, can play a role in creating awareness around the event.

Know your audience: be sure your messaging makes sense and is specific to each group you're targeting with your communication.

Stay top of mind by continuing to engage with attendees once they've registered with reminders, teasers, and other exclusive content to get them excited about the event.
7. Follow-up
There's no doubt there are some differences and challenges moving from a very tangible, immersive event to a virtual one. But there are areas where the digitized event wins over its in-person counterpart. And that's in
lead gen and nurturing
.
This creates opportunity for what we at HighRoad call a micro lead scoring system. The entire lead scoring system itself would most likely roll up into your organization's comprehensive lead scoring system (i.e. assign x points for those who attended your conference, x points for filling out a form, x points for downloading a handbook, etc.). But you can still create a smaller lead scoring ecosystem specifically around your virtual event since the
entire experience can be leveraged to qualify your member and customer leads.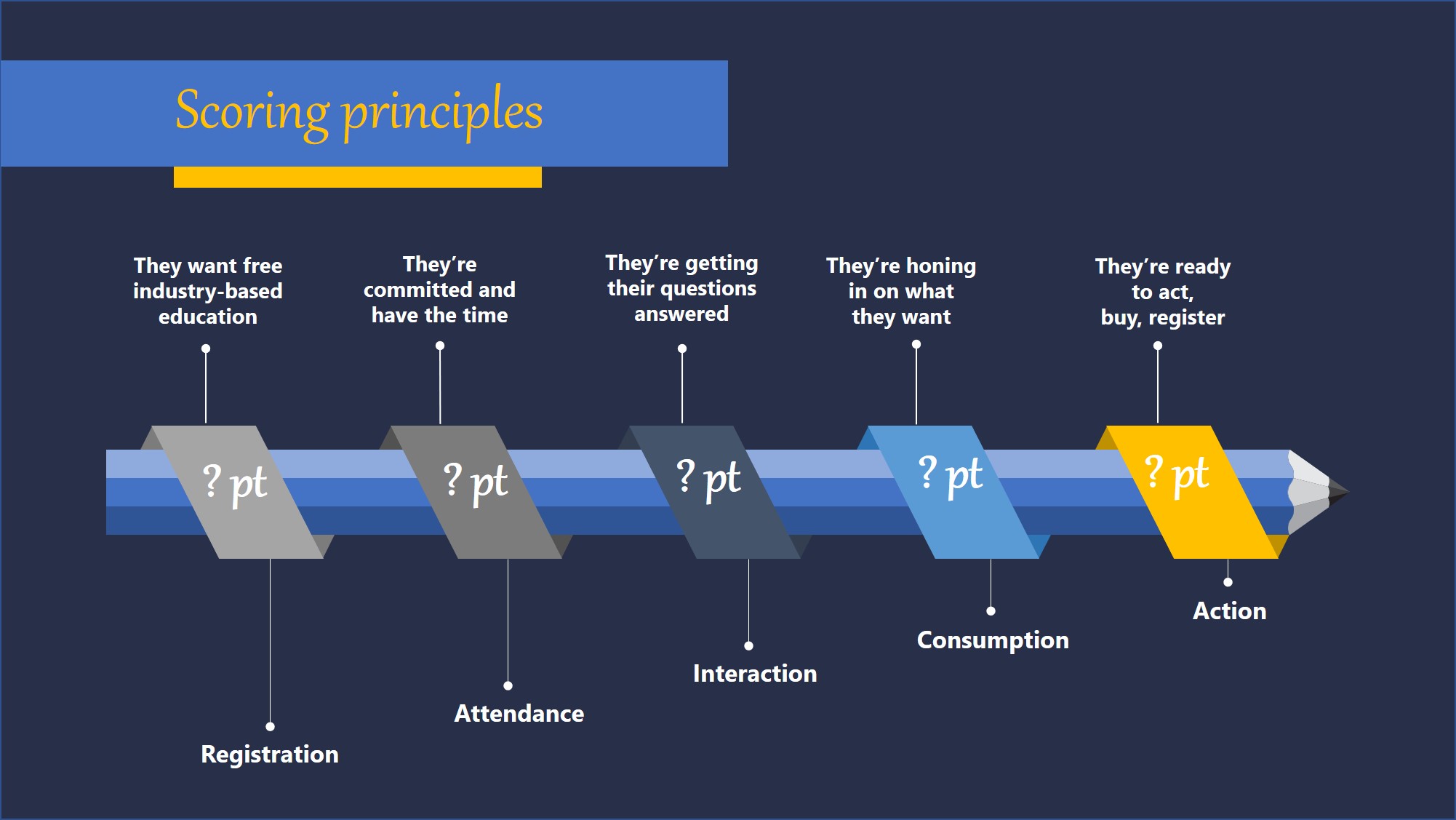 The importance of weighting these leads
—
whether members, customers, or net new prospects
—
and categorizing them for relevancy and effort, is to ensure you're perpetuating the energy of the event.
In the end, association conferences and events are intrinsically designed for their members and their communities. There's no questioning that. But, for associations who are continually up against growth, retention, and engagement goals in an increasingly challenging environment,
leveraging the precision and wealth of data
captured at these events is critical.
Final words
When we look back on 2020, we'll remember a lot of stress and uncertainty. But hopefully we'll also look back and realize all of the learning and ingenuity that happened. We'll see that, despite it all, we still came together to serve our members and meet them in new ways. Just as the future of physical office spaces may be uncertain for some, the future of industry events remains to be seen. Perhaps we'll jump at the opportunity to meet face-to-face in large groups as soon as it's deemed safe, perhaps not. One thing is certain: across all industries, we've learned to innovate and use technology in new ways to deliver on our promises. As an all-virtual company, we look forward to the opportunity to continue to help associations with this digital evolution.
---
Access the on-demand event
Want to experience this event in retro-action? Check out the conference on-demand or book time with us to continue the conversation about our event.
About Maneesha Manges
Maneesha Manges is a seasoned digital marketing professional with 20 years of experience working in multiple markets and global companies. Her prior experience includes consulting roles in digital marketing strategy, data analysis, field marketing and social media. Maneesha holds a Master of Business Administration degree in High-Tech Marketing from American University's Kogod School of Business and a Bachelor of Arts degree in Economics from Concordia University in Montreal.