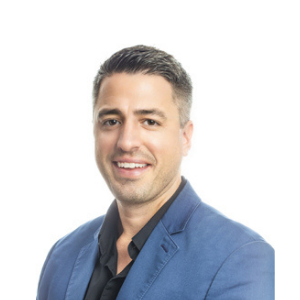 Got Leads? Now What?
In the Actual Disruption Webinar series' episode 8, sponsored by Breezio and Adage Technologies, titled "Got Leads? Now what?", HighRoad's leaders joined industry partners last week to share valuable insights to guide association marketers on how to activate on net new leads and data collected in recent months. I listened closely and want to share some key takeaways.
Data can function a lot like other everyday items in life: You need it, get it, get some more and before you know it, you've run out of room. You don't know what to do with what you've acquired (Think clothing. Think Food.), and you may feel frozen and overwhelmed by clutter. You tend to then put making use of the data on the back burner or hide it away because "out of sight, out of mind" means it's time to move on to the next thing.
The challenge is, when we do this, we are leaving a lot of potential goodness on the table (or in the closet😉), whether it is food that goes bad, or clothing that goes out of style, because the moment to eat or wear this delicious find has either been missed or has yet to arrive.
We then lose the value of these items. This is exactly what happens with leads. Leads can go from cold to warm to hot and right back to cold if you don't nurture them when they are warm and capitalize on the moment that they are hot. So how do you do that?
Listening to this panel of experts, this equation that spoke to me is very important to remember as you begin to identify what to do with your leads:
"Personas without a Journey = Nothing"
So, you could build personas for the clothing in your closet:
Sally Style – for when you are going for a certain look
Evan Event – for specific events, occasions, situations
Steven Seasons - for a specific season or weather
Comfort Colleen - for when you want to feel a certain way
If you buy a piece of clothing just to buy it, but you don't have a plan or journey for that item, it tends to become the article in the closet taking up space with a tag on it because "you never know when you might wear it." Pretty simple: if you do not have a wearable journey built, a clothing persona is meaningless. So, how can we fix that? These sharp presenters shared the secrets to success.
For more on marketing strategy focused on a plan and methodology, take a look at what one of the panelist Maneesha Manges has to say in this blog, "How to Make Conversions Using Data".
What I Heard
1. Data capturing
Looking at all data and combination of data sets, you must begin to put each persona's journey together for a holistic understanding of who they are and what they are looking to achieve. The behavioral data from your member, tends to be richer than the demographic data that you collect. A digital advisor on our HighRoad team likes to call this "squishy" data, meaning it changes, and is a "softer" type of data set.

2. Qualifying and scoring leads
Quality outranks Quantity as it relates to your leads. You must sift through all of the collected data and build out the personas and the journey and follow each lead to ensure that they are ready to make a move to become a member.
Marketing should focus on an unengaged lead, with the goal of getting them to engage and give more behavioral data. Sales should focus on targeting the hot leads, meaning they have already engaged and given enough data points to demonstrate they are ready to convert on a sale. Make sure you are communicating with your target audience and leaving behind those leads that either aren't qualified or just not ready to engage with you.
3. Progressive profiling
Start thinking about what data you could collect on a lead that would make the difference in how you would approach or engage with them. Progressive profiling allows you to incrementally capture new data points instead of asking leads to constantly fill out the same demographic data again and again. Instead of asking for demographic data, consider asking for likes or preferences - data that you wouldn't be able to gather through other direct interactions.
4. Integrated Data
By having all platforms integrated you can have all the data collected in one central spot, making persona and journey building easy.
For example, with an online communities platform, like Breezio, you can open individual communities to members as well as non-members. When you open the platform to non-members you have the ability to drop a cookie or tracking pixel and begin to nurture them into becoming an actionable targeted lead.
By the numbers, we need to get more associations and their platforms integrated, so they can collect and act on the valuable data available across all platforms.
Can you answer any of these questions yet?
What is marketing transformation?
Are we ready as an organization to make the shift?
Do we have clearly outlined goals for our transformation?
If not- check out this blog by a digital strategist here at HighRoad: How to Turn Marketing Automation to Marketing Transformation
Wrapping it up
To wrap up this gift of data direction - Given the current landscape, we know that people are more likely to fill out forms, attend events, join communities, engage digitally, and that leaves YOU with a deluge of delicious data ingredients that will send you searching for the right recipe for success.
Lean on digital marketing experts, integration specialists, and experts who live and breathe data and focus on helping associations demonstrate ROI.
When it comes to your cluttered closet or your plentiful pantry, if you would lean on a stylist/downsizer/organizer/nutritionist, in another word, a professional, you would have a better strategy for how to best put your clothing and food work to make you look and feel like a million bucks. That's a fact!
Got Leads? Now What? We've got you covered!
I invite you to HighRoad's free VirCon: Follow the Yellow Brick Road; Data as the new gold, where we will talk data, explore today's market trends, and help you serve up a strategy developed for actionable insights.
Conversions, growth, and revenue will look so good on you in 2021!


About Rob Shelton
Rob is an entrepreneur with a background in both sales and marketing. Passionate and motivated, Rob enjoys new challenges and thrives in a fast-paced environment that allows the opportunities to work with diverse content. He takes pride in relating to associations needs, and helps them navigate the complexities of sales cycles with his expertise.