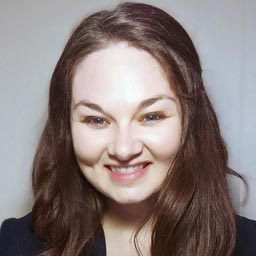 Hand your members the remote
Lead Generation & Growth Strategies | Segmentation | engagement | email preference center | data management
From personalized Netflix recommendations to suggested Spotify playlists, users have come to expect a certain amount of customization when it comes to services and subscriptions. Association audiences are no exception.
Organizations spend a great deal of time making assumptions about their members' interests. And there are a number of tools out there to support the collection of behavioral data so that associations can get better and better at getting to know their members.
But sometimes, it's not enough just to build off algorithms that indicate a person's interests. Sometimes the simple solution is to ask.
That's the intention of the modernized Email Preference Center (EPC). To give your members control of the remote.
At its most basic level, your EPC should keep your organization compliant with GDPR, CAN-SPAM and other privacy regulations. But leveling up your EPC strategy means creating a central digital location for your members to topically build their own experience with you.
Categorizing their viewing experience
First, let's go over the definition and mechanics of an EPC. Most associations think of an EPC as the page their users see after they click the "unsubscribe" link. And while that's not inaccurate, it is limiting.
Yes, your EPC should give your users the opportunity to globally unsubscribe from your email communications. However, when it comes to leveraging your EPC, you should consider a more granular approach.
In order to create an EPC that accurately represents your organization, you need to cross-collaborate with staff to determine your email categories. Some organizations bucketize their EPC categories by program format (i.e. conferences, webinars). Some delineate by the type of communication (i.e. newsletter, digest). However, the organizations that are engaging with their members the most are dividing their EPC categories by topic.
Take the graphic below and consider an example of an association that caters to marketing professionals. If this association were to categorize their EPC by topic, that topic could cross over other categories.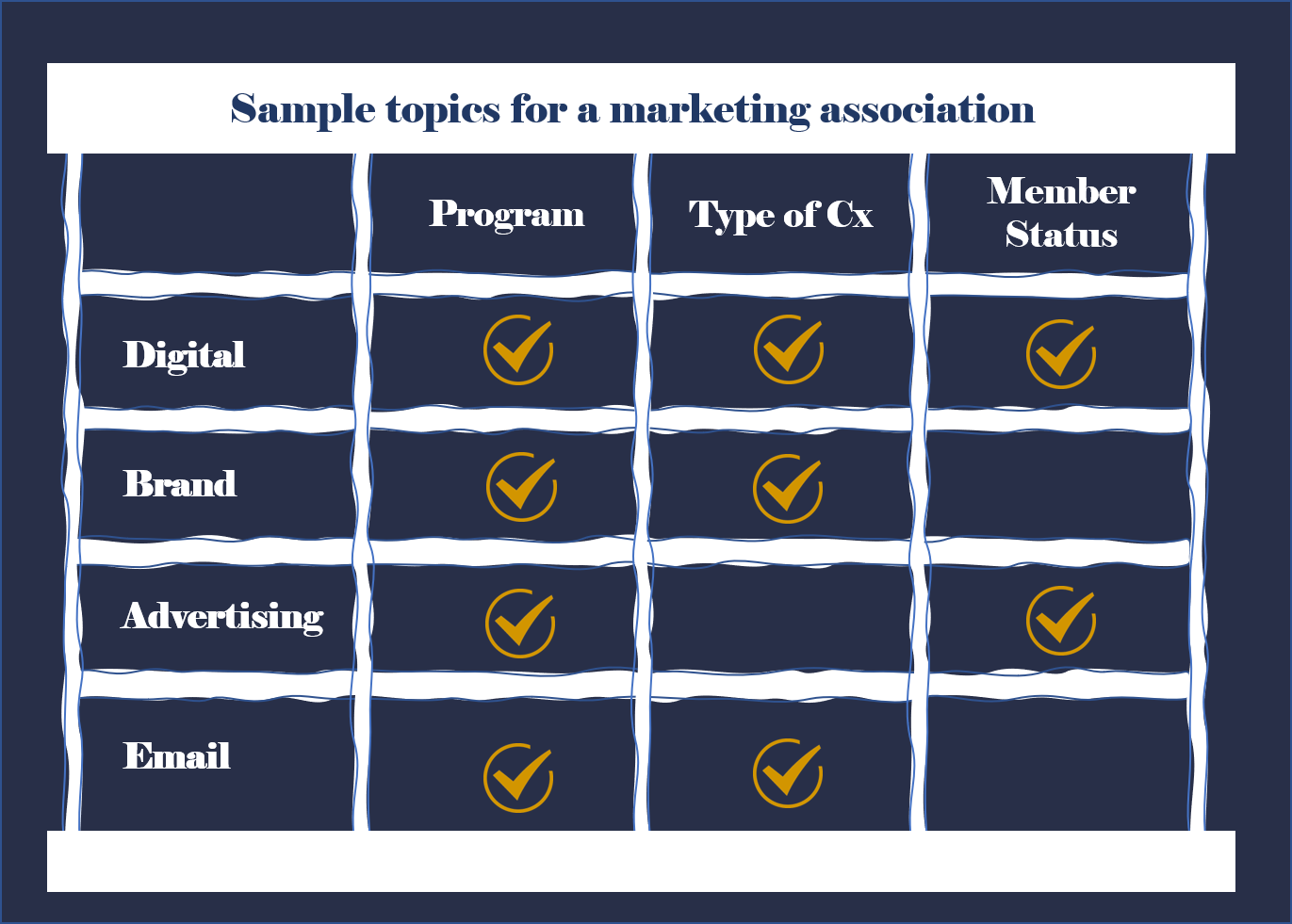 For instance, Bella, expresses an interest in Digital Marketing by checking the Digital box on your EPC. You can, in turn, send Bella communications around your Digital Marketing Annual Conference , your Digital Marketing webinar series, and your Digital Tips Weekly Round-up.
Handing them the remote
If you're only using your EPC as a compliance tool, letting it sit passively as a footer in your emails, you're missing a significant opportunity to connect.
This is where you can really level up.
Actively driving your users to your EPC shouldn't be seen as a burdening task on your members. It means you care enough about your members to continue getting a gauge on what they want.
You can promote your EPC by:
Adding it to your member profile area

Integrating EPC

campaigns into your communications calendar

Promoting it via your website
By taking more of that proactive EPC approach, you get closer to your members, and your goals. Specifically, you'll:
Increase engagement levels: Meaningful engagement means finding out what they want more of, and giving them just that. Increased engagement in your programmatic offerings equates to revenue growth.
Identify membership patterns: Because you're collecting insights on your members' aggregate interests, you can transcribe those into actionable organizational changes and innovations.
Increase retention numbers: By creating targeted member journeys, you build loyalty amongst your members and, ultimately, retain them.
More options means less cancellations
When built correctly, your EPC gives your members what they really want—options. Options result in lower global unsubscribes, otherwise known as exclusions, and higher preference selections, otherwise known as inclusions. This is where the strategy starts to really come in—by collecting these user preferences, you'll begin to create customized member journeys based on their unique interests and needs.
And options aren't limited to the number of categories you offer up. Cadence comes into play as well. Frequency manager functionality within an EPC can be powerful with organizations that all too often tend to flood their members' inboxes. Giving your members the remote on how often they hear from you can make the difference between a global opt-out and an engaged, loyal member.
Drawing in net new viewers
So let's talk about awareness building and lead generation.
With the impending crumble of the proverbial "third-party cookie," we're going to see some changes in the way we follow anonymous contacts and, over time, build relationships with them. This is where Email Preference Centers, working in tandem with lead-gen platforms such as HubSpot, SharpSpring, and Marketo, are going to shine with associations.
When you publicize your EPC outside of your member base, your EPC suddenly becomes a recruitment tool.
Before you start wandering down the path of how this would work from a functional standpoint, note that not all EPCs are created equal. If you're shopping for an EPC, it's important that you ask whether it can draw in and cater to non-members. For instance, the specialized EPCs delivered by HighRoad include dynamic functionality that allows:
A user who is not within your AMS (i.e. non-member) to access your EPC
A non-member to see different content that a member would see by visiting the same EPC page
This keeps it simple. It keeps it to one consolidated page. And it allows you to create both member journeys and non-member journeys straight from the data coming through your EPC.
For instance, Jon is a member of an RV manufacturing association. Jon receives his quarterly communication from his membership asking him to update his email preferences, along with additional Member Profile information. Jon visits the EPC and checks boxes for two topics—Travel Trailers and Destination Trailers. As a member who, by way of payment, naturally gets more than a non-member, Jon now gets pertinent updates (i.e. relevant conferences, editorial, webinars) on anything related to Travel Trailers and Destination Trailers. Jon is happier. Jon gets more out of the organization. Jon engages more in paid programming. Jon renews for another year.

Beth is in the RV manufacturing industry but has no familiarity with this RV association. She comes across the association's site through a simple Google search for Toy Haulers. She hits the association's EPC because it's prominently promoted on their home page. She enters the same EPC that Jon entered but sees an entirely different page. She quickly finds the Toy Haulers non-member newsletter, fills in her basic contact information, and happily gets access to the newsletter.
Right there, Beth becomes a lead. Beth isn't a nameless, faceless contact that comes to the association's website looking for content, peruses a few pages, and then bounces out. Beth doesn't just get rolled into a larger mix of aggregate "no name" data collected via Google Analytics.
No...Beth receives the content she wants from an association that she now knows about and is earning credibility with her. The RV association now has the most basic information on Beth, and can now nurture her to its definition of conversion (i.e. membership).
The RV association can nurture even more if it integrates its EPC with a marketing automation platform. For instance, if Beth has provided her contact information in exchange for the newsletter, the association can now trace the pages that Beth hits via the marketing automation platform, and can trigger automated nurture campaigns based on those page views.
Beth gets what she wants at the time she wants it. Beth starts to see value in the organization. The organization continues to serve Beth relevant content and, based on her web browsing, puts "the ask" out there at the right time. Beth joins the organization and is now nurtured as a member.

Relevance = relationships and revenue
Yes, it's hard to draw a parallel between associations and digital streaming conglomerates like NetFlix and Spotify. But at the most basic level, the formula they follow is simple—c
ontinually give them what they want and they'll stay with you.
That means, managing your preference strategy isn't just about setting up an HTML page and adding a few check boxes. It isn't about adding that cloistered 8-point font 'unsubscribe' link to the footer of your email template. Your Email Preference Center is a reflection of your overall content strategy.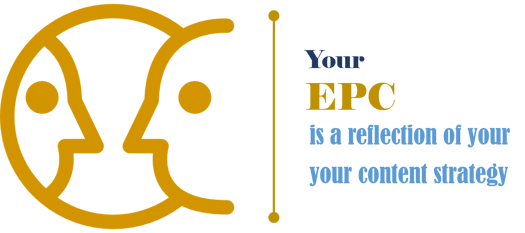 As such, managing your preference strategy shouldn't be guided by a set-it and forget-it mentality. It requires constant supervision and evolution. It's requires you, as an organization, to stay relevant with all markets—and all generations across the alphabet—not just with your existing members.
---
We can help you hand over that remote
As you consider the next evolution of your Email Preference Center, let us help you throughout the process.
Schedule some time with us
.
About Nicole Crilley
Nicole is a digital strategist and content designer with 10 years of experience in email marketing automation, web design, marketing technology, user experience, and content production. With a versatile background in freelance, consulting, and corporate settings, Nicole specializes in identifying and implementing effective digital strategies.