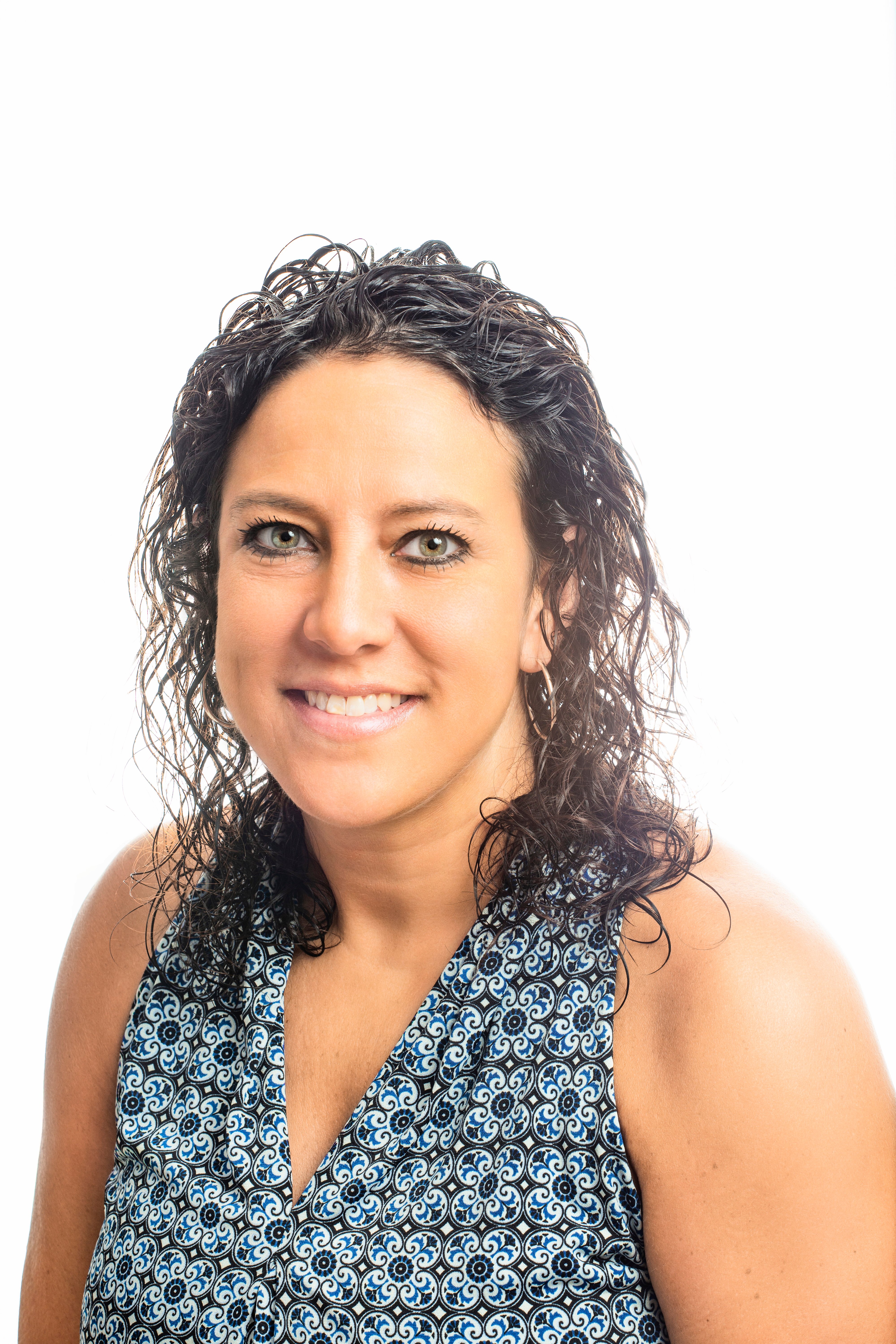 Anatomy of a Content Strategy
Personas | content marketing | Content Strategy | program development
Across the business continuum, c
ontent is one of
the
most crucial elements when it comes to creating brand awareness, nurturing leads, and ultimately, bringing in revenue.
Content is even more meaningful for associations because the general value prop for most organizations comes down to the 3 Cs: communications, communities, and most importantly, content.
From this perspective, content becomes the fuel for the entire operational engine, from marketing to sales to programming.
With such reliance on ongoing and solid content generation, associations should have a content strategy in place that supports the entire member lifecycle, from
prospect
>>
lead
>>
member
>>
engaged (buying) member.
As such, your association's content strategy should provide a systematic way to deliver compelling, sustainable, and relevant content in pursuit of your organizational goals.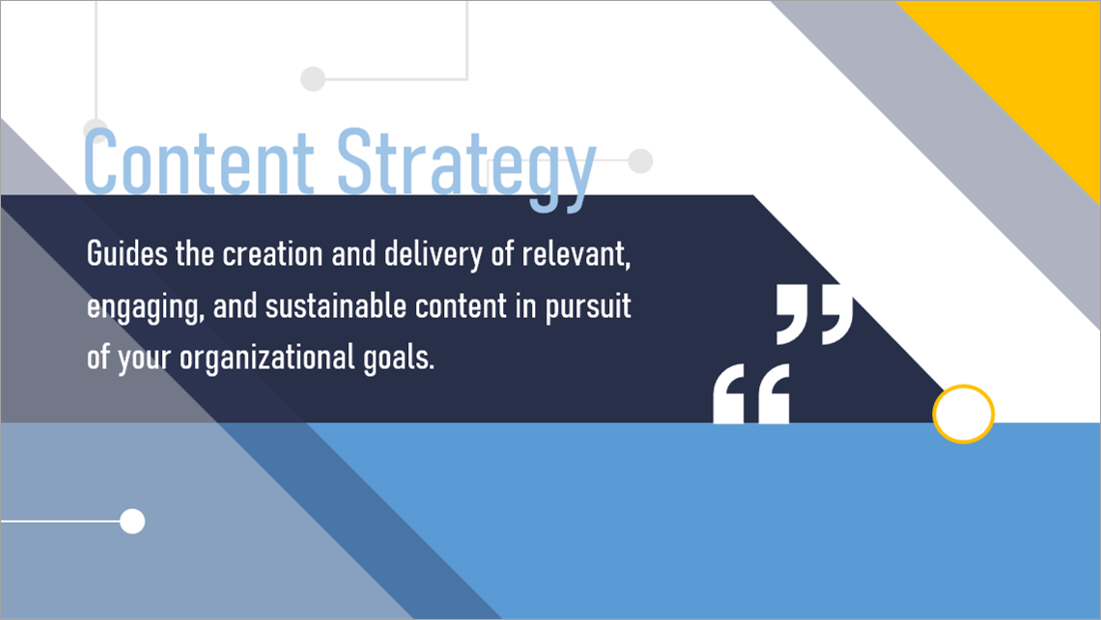 So you see, it's not just about supporting the marketing funnel. When it comes down to building a centralized content strategy, your entire organization should be focused on two key questions:
What does our content look like today?
What should our content look like moving forward based on our audiences?
Building your content strategy
While content strategies differ from association to association, key components tend to include:
Positioning: A central system that supports your core messaging and persona-specific messaging to ensure everyone is on the same page during content development. A brand messaging platform, for instance, could be a great tool to help teams stay unified in the positioning of their brand, products, and services.
Themes: Topical trends that guide your content. A thematic content calendar, similar to an editorial calendar, is designed to drive all content generated during that period of time around a particular content topic. For example, if 'Machine Learning in Marketing Operations' is a theme, all blogs, webinars, infographics, selling sheets, publications, just to name a few, would be focused on that topic for the month. Similarly, you have content theming around each of your personas.
Owners: Organizing subject-matter experts, writers, editorial teams, and/or other content developers by their role in the process. Owners could consist of on-staff personnel, member volunteers, or outside service providers, and should be documented in terms of who's doing what during the generation process (i.e. who's interviewing, who's writing, who's tweaking editorial, etc.)
Mapping: Arguably one of the most important pieces of this framework, translating audience (personas) into content and placing it along the funnel with goal intention. Once again, mapping applies to programmatic content just as much as marketing content. In other words, if persona attributes or needs surface to warrant a program- and/or product-driven dev strategy (i.e. development of a new conference), your content strategy would catalyze the need into revenue-based programming.
These components should work holistically as part of a robust content strategy to achieve your goals. So what are the fundamentals to building an effective content strategy?
Let your personas surface your content
One of the first parts of building your strategy is to
create personas
that categorize various types of members (and target members) within your association. When used properly, these are valuable assets that allow you to understand attitudinal, behavioral, and preference-based attributes. Personas help better define goals and needs which, in turn, drives content creation, format, and delivery.
For example, a persona may be called CEO Charlie. Charlie is very analytical, has a goal of scaling his or her company, finds it challenging to get cross-functional collaboration in their organization, and needs to keep his entire staff upskilled in the ever-evolving industry. This basic information alone tells you that a content idea could be a webinar, lead by a fellow CEO member, on the topic: Cross-Department Productivity: The Key Ingredient to Scaling Your Business and How to Measure Its Success.
Take audit of what you have
Next, you will want to take inventory and consolidate all of your content into one place so that you can collectively assess your body of work. This includes materials produced by staff and content from your association's community. For instance, you can tap into a speaker at a conference or a blogging practitioner. And, of course, you'll want to review how your content is configured for search engine optimization (SEO). This includes reviewing metatags, key search words, for power, relevance, and fit to your organization.
Build a hierarchy for your content
During your audit, you want to evaluate which content is resonating with your intended audiences and which are falling flat. For example, consider blog articles that had a lot of hits or webinars that saw high attendance. Of course, Growth and Engagement Platforms (i.e.
HubSpot
) are best for tracking these performance metrics in an integrated way, but you can still accomplish some level of tracking through email marketing tools with basic web-based analytics and conversion tracking sophistication (i.e.
Adestra
).
Discover what you need through gap analysis
Using the personas you designed (or refurbished) and your content audit, you can now decipher any "gaps" that you currently have within your inventory. For instance, if you have a next gen persona that is made up of younger millennials and those in Gen Z but had no prior content mapped to that group, that is a huge content gap that needs to be filled with marketing and programming content designed for this audience.
Round everything out with a competitive analysis
Another analysis allows you to step outside of your organization so that you're looking at the broader content landscape. Layering your gap analysis with competitive analysis allows you to identify content gaps based on comparisons with parallel organizations in the association industry, affiliate organizations (i.e. vendors), and/or even companies in your association vertical. Exploring competitive and/or affiliate blogs, conference sessions, and even focus areas (typically front and center on their web site) is a good way to research.
Identify your funnel goals
As an association, one of the key differences compared to traditional, for-profit businesses is the tangibility of what's offered. Businesses generally offer products or services in exchange for sales revenue while association members gain their value through content and being part of a community. That being said, the content goals and how they're measured is going to look slightly different depending on the stage of the funnel:
At the top is demand generation content where you're looking to create brand awareness in order to feed and fill your funnel. Generally, you're using this type of content to get your target audience(s) to your website so that they can access your marketing content in exchange for their contact information.
The success of your demand gen content campaigns is easily measurable through website visits and bounces. Further evaluation on the sessions within the webpages and visitor demographics can also be useful information.
At the center, you begin producing and deploying content to nurture prospective members and product/program buyers. Ideally, you're reinforcing your brand credibility through education and thought-leadership content to differentiate yourself in the association marketplace. Ultimately, the goal is to
generate quality leads
and convert on your program offerings.
Quantitatively, you will measure this by form fills, subscriptions, visits on important pages, direct inquiries, and visits to membership pricing pages. Before anything, however, you'll want to see if the users accessing your content are aligned with your personas.
The sales content would be used by membership recruitment teams, member services departments, or sales teams selling ad space and simply have the goal of converting marketing leads into "paying customers." Alternative or non-traditional sales teams may include volunteers, chapter leads, other staff members, partners within your ecosystem, etc.
Transactions, meetings, consultations, applications, registrations, and certifications will all be units of measurement in this space. Of course, these KPIs vary based on the type of association and the programming and services offered.
Since associations, societies, and/or non-profits are built on causes and/or industry-specific purposes, member content should revolve around those initiatives. Creating customized membership experiences and/or generating revenue from programs that sustain and grow the organization serves as the primary purpose of member value content.
Renewals and program upsells are the obvious performance metrics you can use for this type of content. There's also engagement scores (lead scoring) that show how much a particular member interacts with your content and your organization. These can be auto-calculated using Engagement & Growth platforms (like HubSpot), or in a few cases, through Association Management Systems (AMS).
For more macro-level insights, you can look at Member Lifetime Value (MLV) to see how long your members are staying, the frequency at which they purchase programs or services from you, and how much they spend with you during that time. You can apply this same formula to those you identify as 'Customers'. These are groups that may never become members but still consistently invest in your programming (as non-members) for years at a time.
Plot content by funnel stage
While there's no set-in-stone rule about which type of content should be used during each stage of the funnel, the chart below provides a baseline as to which content generally works best in its respective stage: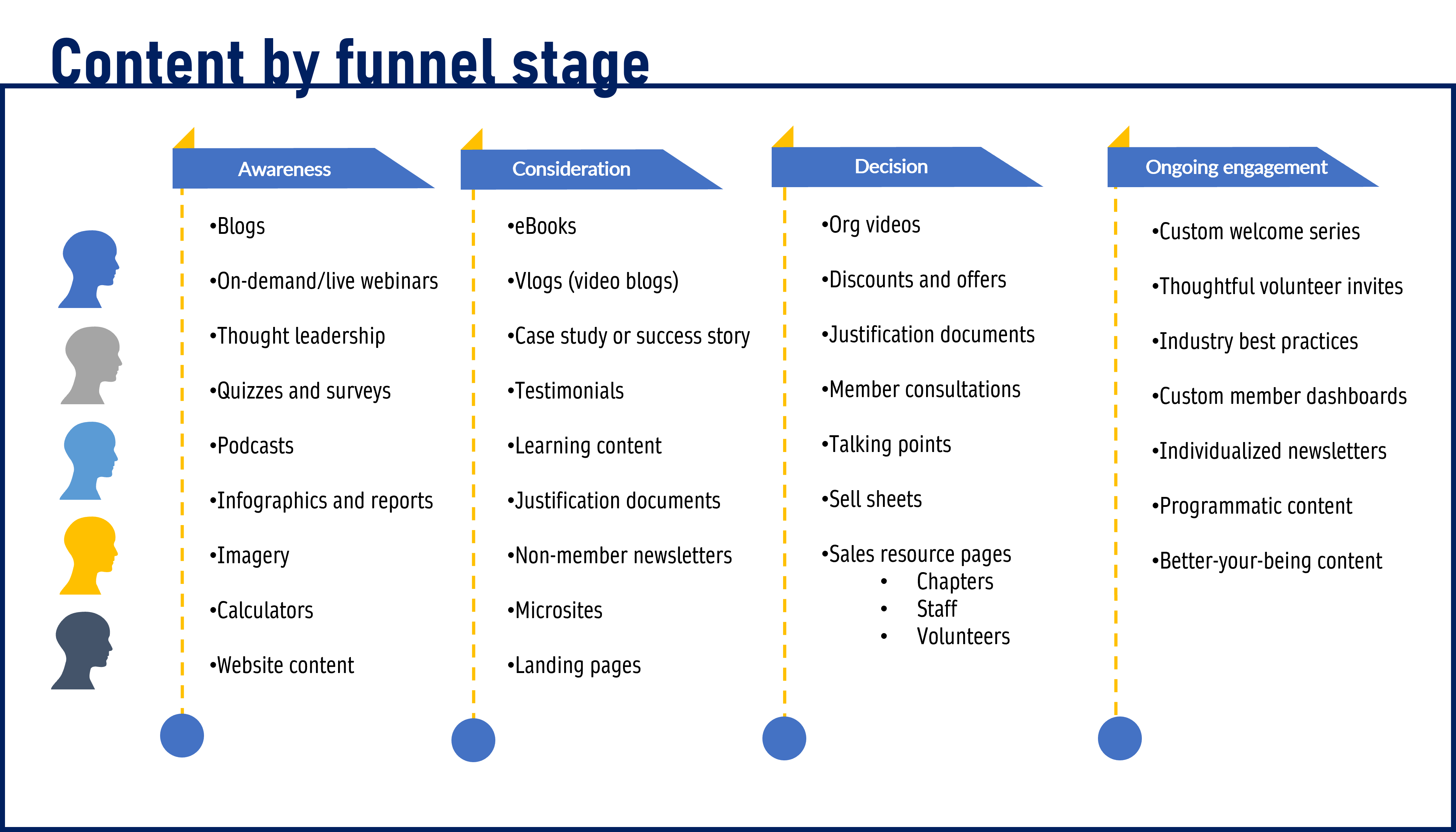 For each persona within your matrix, start mapping content (marketing and program) based on the type that would resonate best with each persona and the stage in the funnel they're in.
For example, let's say you've surfaced Machine Learning and the Human Hand as a content theme for your Tom the Tech persona.
Start at the top of the funnel (the awareness stage) for 'Tom,' which could include a brief article about the benefits of AI technology. Then, for the 'Toms' that make it to the middle of the funnel, you might provide a handbook that details some AI tech use-cases. And at the bottom of the funnel, you might promote a program for a conference with specific speakers dedicated to how AI is changing the way organizations operate.
All in all, the purpose is to gear your content to the audience that would derive the most value from it based on their persona and where they are in their journey with you.
Create content through a sustainable framework
The process of understanding and reassessing your personas, testing what type of content resonates and what doesn't, and plotting where content should sit within the funnel is truly a never-ending cycle. Getting a framework in place to manage everything is just the first step to success.
For all brand new content, or content that needs repurposing, you'll want to follow these simple steps—and rinse and repeat—when new content needs surface.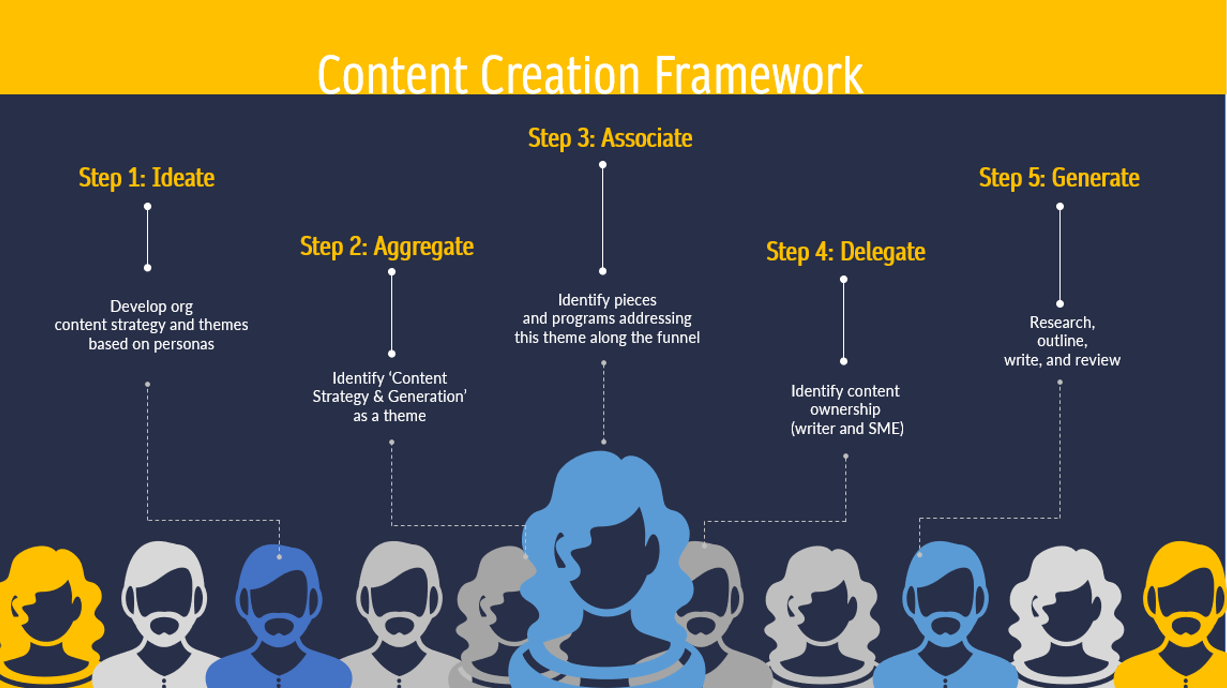 ---
Ready to build your content strategy? We can help.
Book a consultation
with us today! We can help you build your personas, identify content themes, and develop goal-based journeys that meet your organizational objectives.
About Aimee Pagano
Aimee joins HighRoad Solution with 15+ years of integrated marketing and communications experience, primarily in client-facing roles within the association and SaaS space. Her specialties include persona development, content strategy/management, lead gen and awareness campaign development, and website development/optimization.