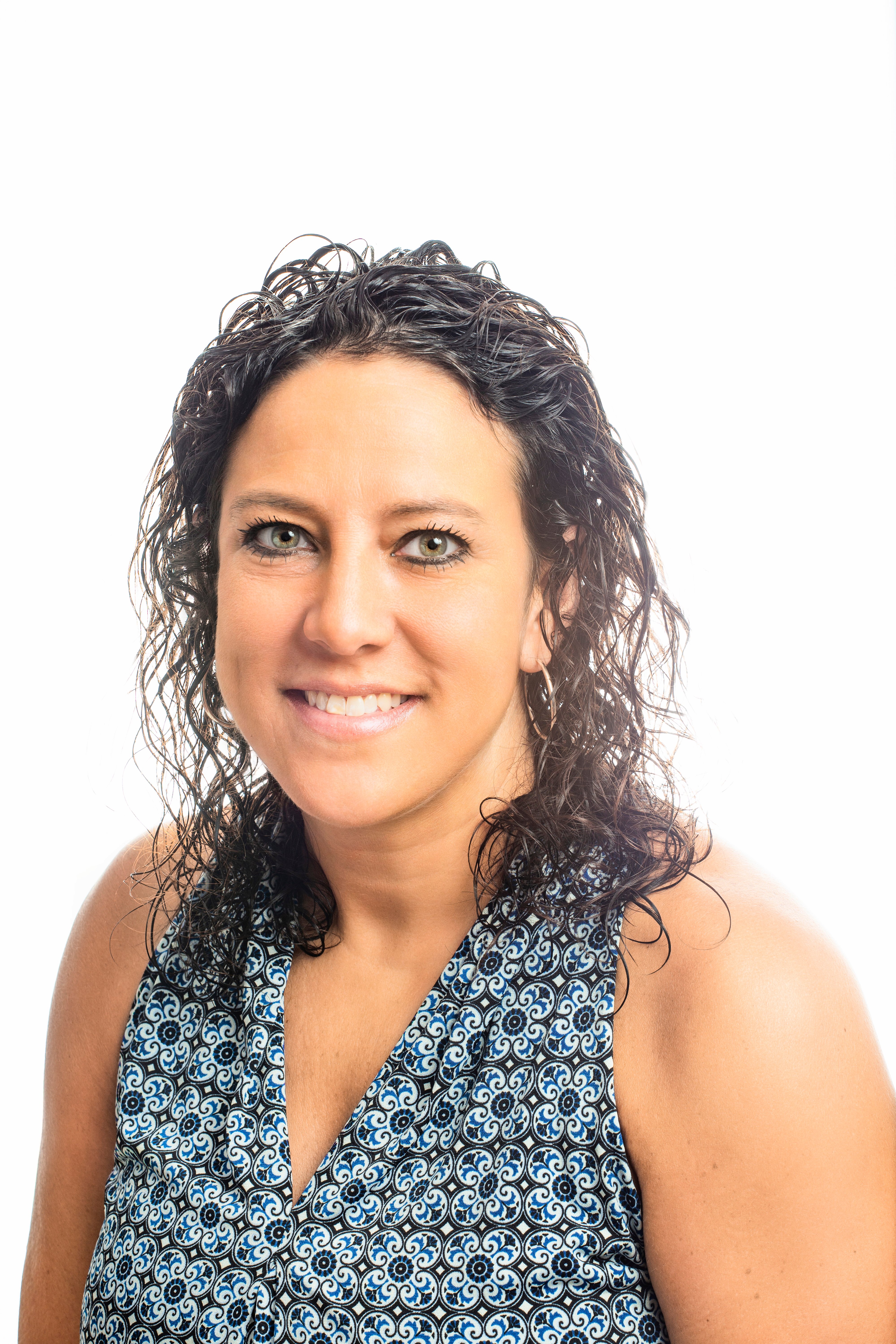 Product Spotlight: Adestra and SharpSpring...the Powerhouse Pair
Digital marketing, and marketing in general, has two central goals: acquisition (finding the right people and converting them to customers) and retention (keeping those people engaged with your brand or organization via consistent communication). Our goals as marketers within the association space are really no different. Using a variety of methods, from annual conferences to social media ads, we hope to attract the right people to join our association, and once we've captured their interest and information, we hope to provide them with valuable information to keep them engaged.
The marketing technology we use day-to-day should support both sides of that coin. It's for that reason that, here at HighRoad, we recommend using a two-pronged platform approach. Simply put, we recommend using an email automation platform alongside a marketing automation platform.
Since, from an association standpoint, Adestra (email automation platform) and SharpSpring, (marketing automation platform), lead the pack, let's break down how these two platforms work best together:
Email Automation
Adestra, the leading email automation platform for associations,
allows you to automate and elevate your member communications
. This is the retention-focused side of the coin. Email automation starts with a list, which is typically composed of your members and potentially customers and prospects. Platforms, like Adestra, enable you to segment that list by demographic data, psychographic data, and behavioral data so that you're sending the right content (both free and paid) to each cohort within your list. Ultimately, when you communicate with your members based on their unique stories, you retain them because you'll be focused on the events, programs, and industry and organizational information that is most meaningful to them.
Adestra also helps you and your team do your jobs more efficiently. Seamless reporting and analytics tools give you real-time information on the successes of your email campaigns. And automated and conditionally-driven emails based on triggers and filters mean less manual work for your team.
Marketing Automation
SharpSpring, the preferred association marketing automation tool,
enables a two-way communication with members, prospects, and customers to help you reach your recruitment and acquisition goals. By pushing content through social media, gathering information about prospects through online forms, and building lead scores based on overall engagement levels, you create a journey to nurture and acquire net new members or to upsell your existing member base on programs that are a good fit for them.
With SharpSpring in place, you'll be able to see the full picture of your marketing efforts. It enables you to collect data across all of your digital channels
(website,
landing pages, social media, email) to track your
customer's omni-channel
journey and eventually nurture them t
o conversion
. But it doesn't stop at the conversion. By collecting baseline insights with every campaign, you build more and more intelligence on your audience and your industry. This type of intel can help shape the future of your organization and your programs.
The Two-Pronged Approach
So, how do these two platforms work together? Think of things coming full circle: in order to have a robust email automation program, you need to have a list of engaged or interested contacts. In order to get that list, you have to tell the story of your association in various ways via your online presence. And to do that, you need a robust marketing automation platform. This full circle allows you to achieve both parts of your acquisition/retention goals, meaning you're recruiting new members, providing these new members with the content they need to get and stay engaged, and at the same time continuing to inform and delight current and long-time members.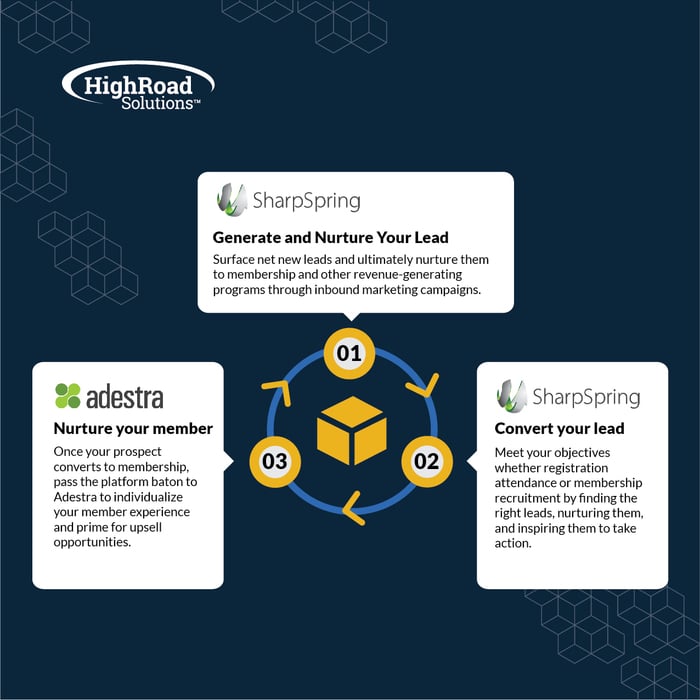 It's clear that the two platforms working together nurtures the entire member lifecycle from lead, to converted member, to happy and retained member. So, the question then becomes, what happens when you're
catering to both acquisition and retention needs but you're using only one platform? The answer―notable challenges, ranging from limitations in effectiveness, to decreased sales numbers, to frayed brand reputations, can take place. Let's dig into these areas a bit more.
Using Only Adestra for Retention and Acquisition
You can certainly use Adestra to communicate with your members and nurture those relationships so that you're putting the right programmatic (paid content) in front of them for diversified revenue growth.
Using the tool to generate leads, however, is a little trickier. Since Adestra is truly an email automation tool (and not a marketing automation tool), it's form and landing page functionality
―
the crux of what's needed to generate inbound campaigns
―
is limited.
While HighRoad offers some add-on Adestra solutions to bridge the lead gen gap for those organizations not quite ready for marketing automation, there's still quite a bit left off the table in terms of a true lead gen and sales-enablement.
With all this said, if you are only looking for a tool to communicate with your members, increase and measure engagement levels for retention, and lightly upsell your programs, leveraging only Adestra is your best bet.
Using Only SharpSpring for Acquisition and Retention
SharpSpring, by design a sales and marketing platform, is your go-to tool if you're only looking to generate net new leads or gather insights for growth. If you plan on using the tool to increase sales and communicate with your members, you'll inevitably
run into delivery and brand reputation issues.
As an association, your intangible "product" is membership. You fulfill that promise of membership through communication, content, and community. This being the case, you typically need your member communications to hit inboxes.
Why? When your member handed over that join check, you made a promise to keep he or she informed about what you have to offer, your organization in general, and the industry. Your email (and other vehicles/channels like community forums, SMS, and social media) all play a role here.
Think of industry updates, transactional emails like member onboarding and member renewals, member newsletters, and volunteer communications. These are all part of that promise.
SharpSpring, and marketing automation platforms in general, are inherently designed to weed out the unengaged so that your organization is only focused on those who are consistently interested in your organization and your programs. It has built-in thresholds to suppress inactive and unengaged contacts. While these limits are put in place to protect your sending status and your brand reputation, they can be quietly restrictive (as in unbeknownst to you) when it comes to getting your member communications to inboxes.
The impact of this runs across the board. You'll either start to see drops in program sales, lower member engagement, or raised hands from squeaky wheel board members who tend not to open your emails but complain when they don't receive their member newsletters. Alternatively, if you go against the engagement policy grain, you may fall into compliance issues. While this is SharpSpring's way of preserving your reputation and protecting product integrity, this can still be frustrating when your organization is temporarily blocked from sending until you've established a remediation plan to repair your sending status.
Having said all of this, if you truly are looking for a tool to generate net new leads and increase sales, and you're not concerned about all of your members receiving your emails, SharpSpring alone is the tool for you.
Why Partner with HighRoad to determine your stack?
At HighRoad, we build marketing technology stacks for associations. Plain and simple. We help you choose the right email and
/or
marketing automation platforms for your business and goals, build custom integrations to create a seamless experience
for your members, customers, and prospects
, and provide expert consulting to set you up for success.
We'll help you and your team work through customized workbooks and roadmaps to implement your email automation and marketing automation platforms, ensuring that they're fully integrated with your existing technologies and that all team members feel comfortable working with your marketing stack.
About Aimee Pagano
Aimee joins HighRoad Solution with 15+ years of integrated marketing and communications experience, primarily in client-facing roles within the association and SaaS space. Her specialties include persona development, content strategy/management, lead gen and awareness campaign development, and website development/optimization.