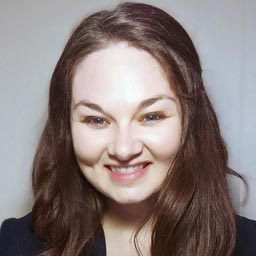 Treat your data like your closet
Segmentation | engagement | deliverability | data management
Thanks to the hit Netflix series, "Tidying Up," people across the world have been "Marie-Kondo-ing" their homes and offices in order to start fresh. For those not privy to the show, here's the gist: Marie Kondo, the show's host, encourages participants to evaluate each item in their home (or, more specifically, in their closet) and identify whether it "sparks joy" in their life.
Anything not "sparking joy" is ceremoniously discarded or donated. Those having gone through the process are afforded a cleaner, more streamlined space that inspires productivity and healthier living.
Your data is no different. And here's why.
Simply put, quality far outweighs quantity when it comes to data. While it's important to keep your member—as in that point in time—member data, sometimes you just need to let go of the contacts that are collecting dust.
Keeping a clean slate of meaningful data enables your association to better segment and target your audiences, which in turn, improves your engagement and deliverability metrics. All of this creates ROI for your team and a more personalized experience for your members.
We recognize that identifying what to "throw out" and what "sparks joy" isn't an intuitive process. Luckily, we have a solid cleansing framework for you to apply.
Here's how we break it down: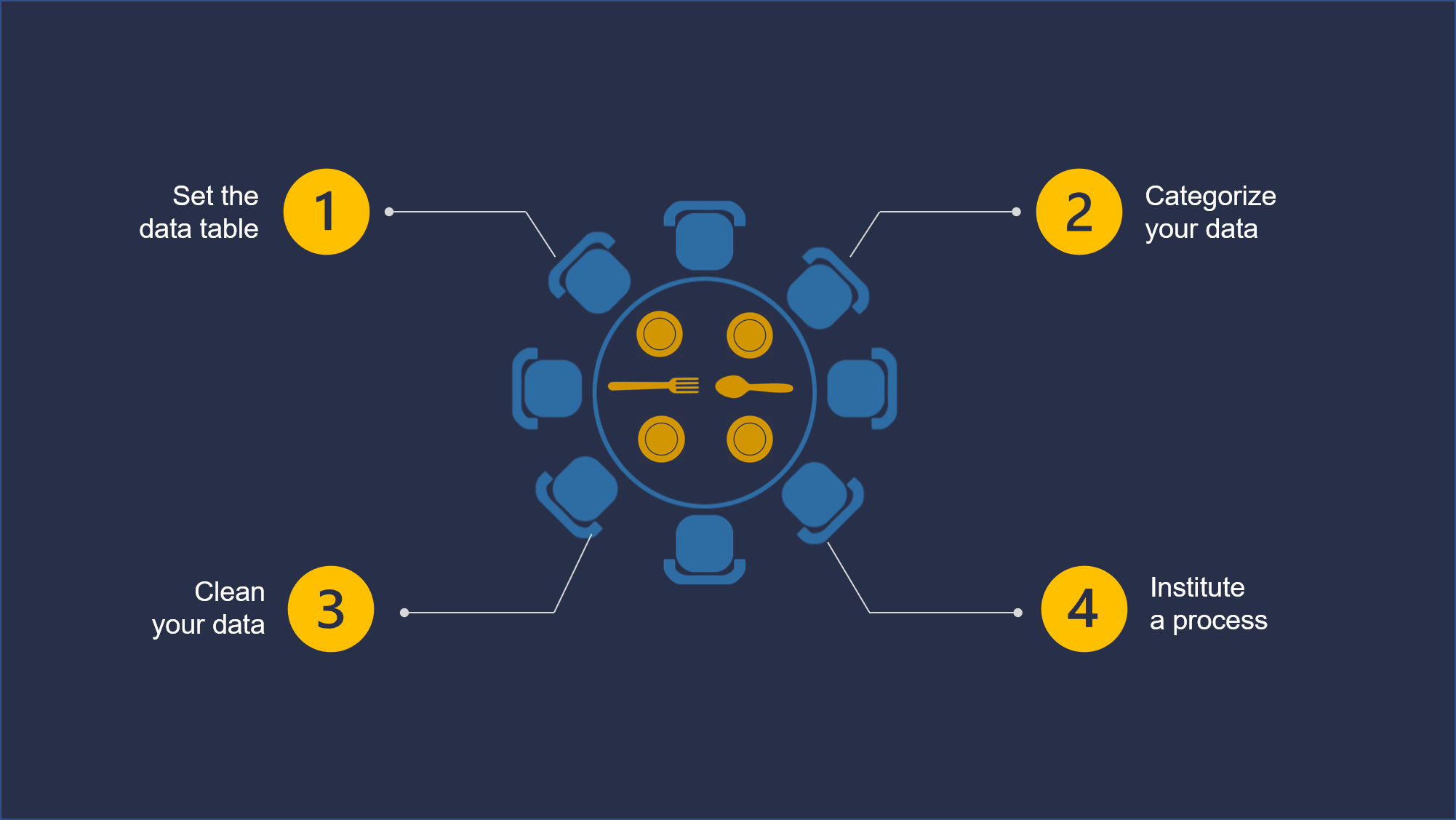 Setting the data table
Before your organization dives into questions of data segmentation and data hygiene, you'll want to take a step back and evaluate the big picture of your data collection efforts.
Ask your organization: Do we have the right data to effectively segment and personalize content for our members? And do we have the right systems in place to begin or continue collecting that data?
To ensure you're working with the most up-to-date data, your digital stack should be integrated with your AMS. Without bridged data, you could be missing key demographic (like updated email addresses or job titles) or behavioral (like program sign-ups) data that will improve your deliverability and engagement rates.
You want to ensure your synced data aligns with your segmentation strategy. It should be organized in a way that meets your strategic goals. If you don't have that in place, we suggest sitting down with your team and aligning your discussion with your strategic plan: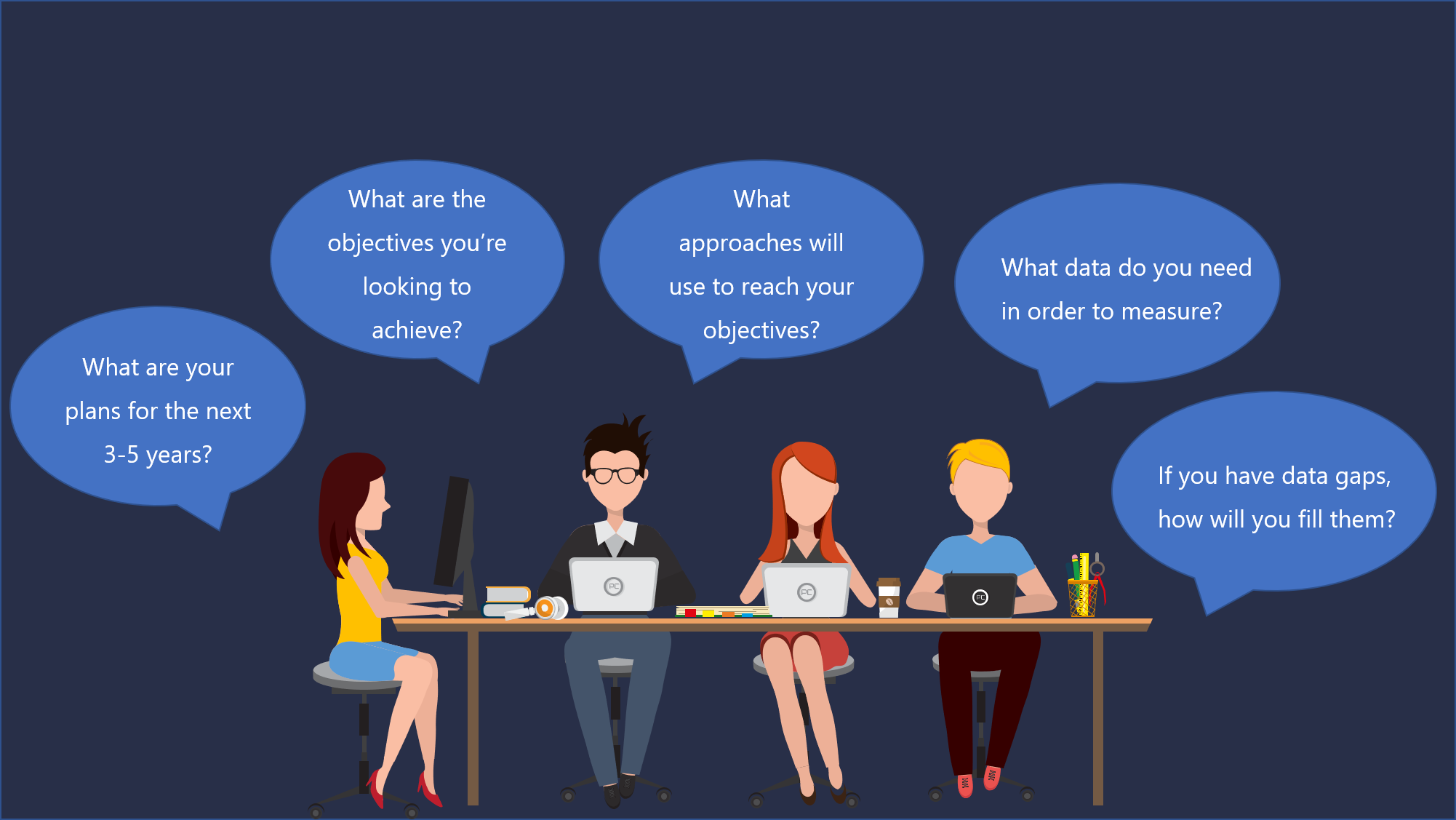 A critical consideration as you set your data table—establish data accountability. Clear ownership ensures that the data infrastructure you've established continues to be managed by individuals on your team with a vested interest. Here are some questions to go over with your team:
Who will own the data in terms of reaching objectives?

Who will own the integrity of the data?

Who will analyze and make recommendations about the data?

Who will organize the data in a way that marketing approaches are executed upon?
Giving your data a face
Now that you've set the table, it's time to categorize your data in a way that supports your segmentation strategy. You should have a familiarity for the different types of data you're likely collecting and where it lives in your systems.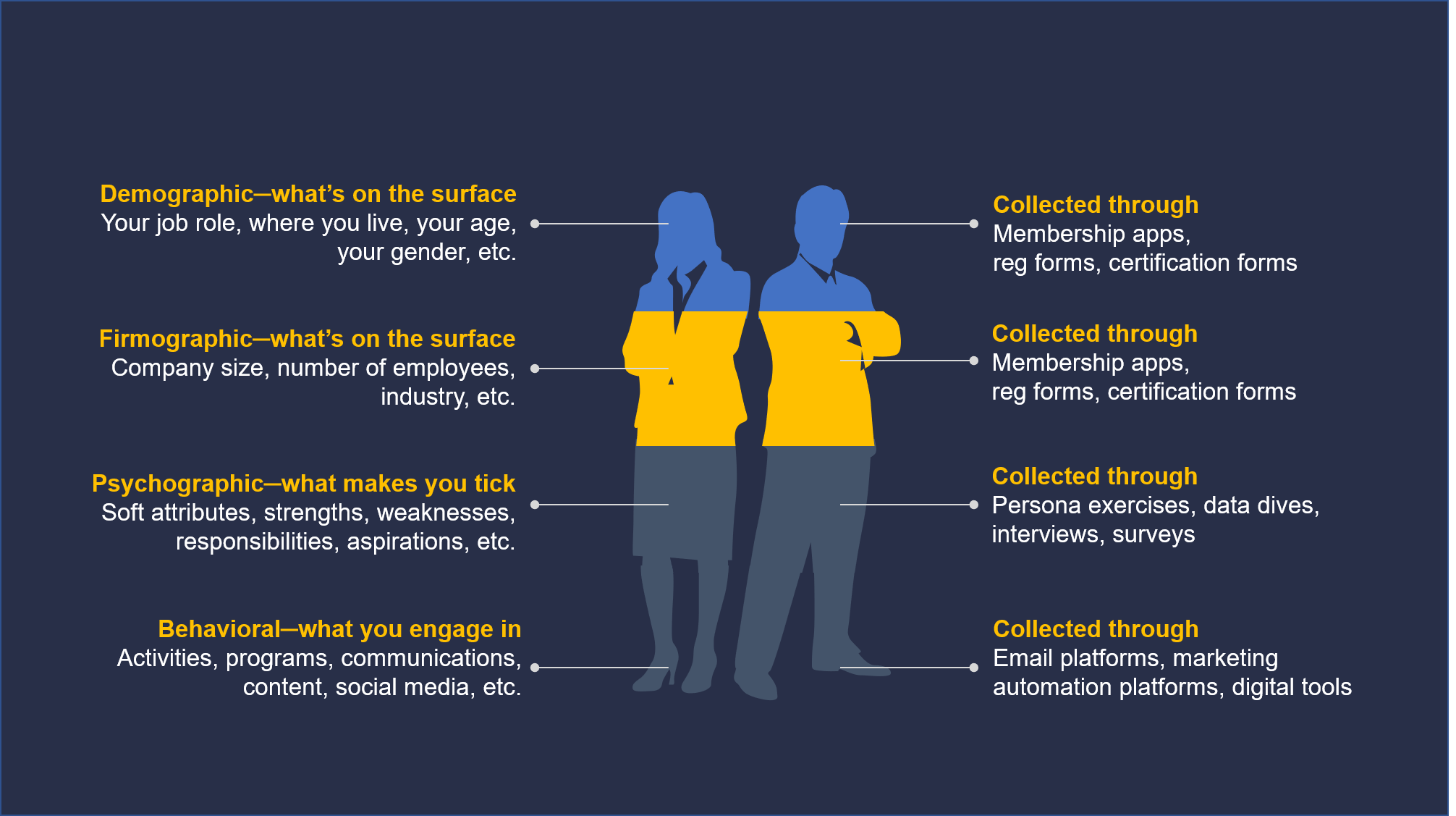 Understanding the different types of data you're collecting and where you're collecting them will help you put the data to work in more effective ways. We recommend implementing the following steps so you have a very clear picture on how you can use your data:
Identify personas: Build detailed, assumptive persona profiles so that you know how to meaningfully connect with members sharing similar traits. You'll use data patterns, behaviors, and anecdotal knowledge from staff, volunteers, and members to create a narrative around each persona.
Segment by persona: Create dynamic lists, views, fields, and filters to define each of your persona segments. This way, you're leveraging the same live feed segment at all times and can refine as you learn more.
Content map: Map your marketing content (typically free thought leadership content) and programmatic content (typically premium paid content) to each of your persona segments.
Build journey: Tie everything together so that you're addressing your persona segments in a way that's meaningful to them.
Let's consider this example. You and your team have identified "Next Gen Georgie," who's defined by an age range, career level, and some very specific content interests like an 'Industry Newbie' track at conference.
You'll create a specific list of members like Georgie in order to serve them personalized, useful content. This will improve the member experience for the "Georgie's" in your member and customer base, and will give you more opportunity to increase revenue through program participation in conferences, credentialing, and more.
Cleaning your data
Data segmentation is one necessary effort. Data hygiene, all of the ongoing processes involved in guaranteeing that the data set is clean, is another.
Systematically cleaning your data is important because it keeps your sending score up, keeps your costs down, and sharpens your marketing. By eliminating unsubscribed or invalid email addresses, your deliverability rates will improve and your reporting will be optimized. And the icing on the cake—you'll save money because you're not storing excess information.
Here are four categories of data to clean:
Unsubscribes: Honor your legal commitments by suppressing and removing these contacts from your systems.

Invalids: Sending to invalid email addresses decreases your sender reputation and eventually results gets your organization on a blacklist by ISPs. For these reasons, email platforms like Adestra automatically add invalid email addresses to no-send lists.

Anti-personas: These folks are not part of your target audience. Create a separate list for them to receive different communications, and ensure the right people are being added to the right lists.

Unengaged/outdated: If someone has been unengaged with your communications for a period time, run a re-engagement campaign. If you're still not getting traction, it's time to cut them out.
Three main approaches to cleaning your data:
1—Big Sweep Cleaning: This is a reactive approach to cleaning your data, likely implemented because you've realized your messy data is causing problems that require immediate action:
Validate for invalids: Run all of your data through a validation tool in order to identify invalid email addresses that should be immediately removed from sends.
Separate your anti-personas

: Categorize your contacts into segmented personas and sort individuals into the right lists. Take a look at anyone outside of those segments and determine how you're going to approach them, if at all. Note that, more than likely, your customers and members will

all

inherently fit into one of your persona categories.

Create engagement tiers: Find a means to categorize all of your data, across your persona segments, by levels of engagement. This will prompt you to run re-engagement campaigns when necessary.
Follow compliance regulations: Suppress anyone who has unsubscribed from your communications and respect user topical preferences.
2—Procedural Cleaning: This is a proactive approach to data-cleaning. Output is a Standard Operating Procedure that gets instituted into your organization. For procedural cleaning to succeed, you'll want to:
Secure company-wide commitment to prioritize data maintenance.

Educate all teams on the importance of staying on top of data hygiene.

Set up and document your processes, committing to a cadence (ideally quarterly) and ownership for each step of the process.
3—Automated Cleaning: Another proactive approach, automated cleaning leverages automation features in your email and marketing automation platforms should be routinely reviewed. Here are some of the tools you can use:
Lead scoring

Filters and dynamic lists

Workflows

Syncs (HighRoad integrations)
The next time you clean your closet, whether on a whim or as part of a routine (i.e. spring cleaning), think about the efficiency of your closet when it's done. You can find what you want. You're not lost in the clutter. And you have the space to create the outfit that you want. Data cleansing is no different.
---
We can help you with the dirty work
We recognize data hygiene can be a heavy lift for organizations. If you're looking for help with this process, HighRoad offers a Data Hygiene Program focused on a proactive approach to data cleaning.
Schedule some time with us
.
About Nicole Crilley
Nicole is a digital strategist and content designer with 10 years of experience in email marketing automation, web design, marketing technology, user experience, and content production. With a versatile background in freelance, consulting, and corporate settings, Nicole specializes in identifying and implementing effective digital strategies.