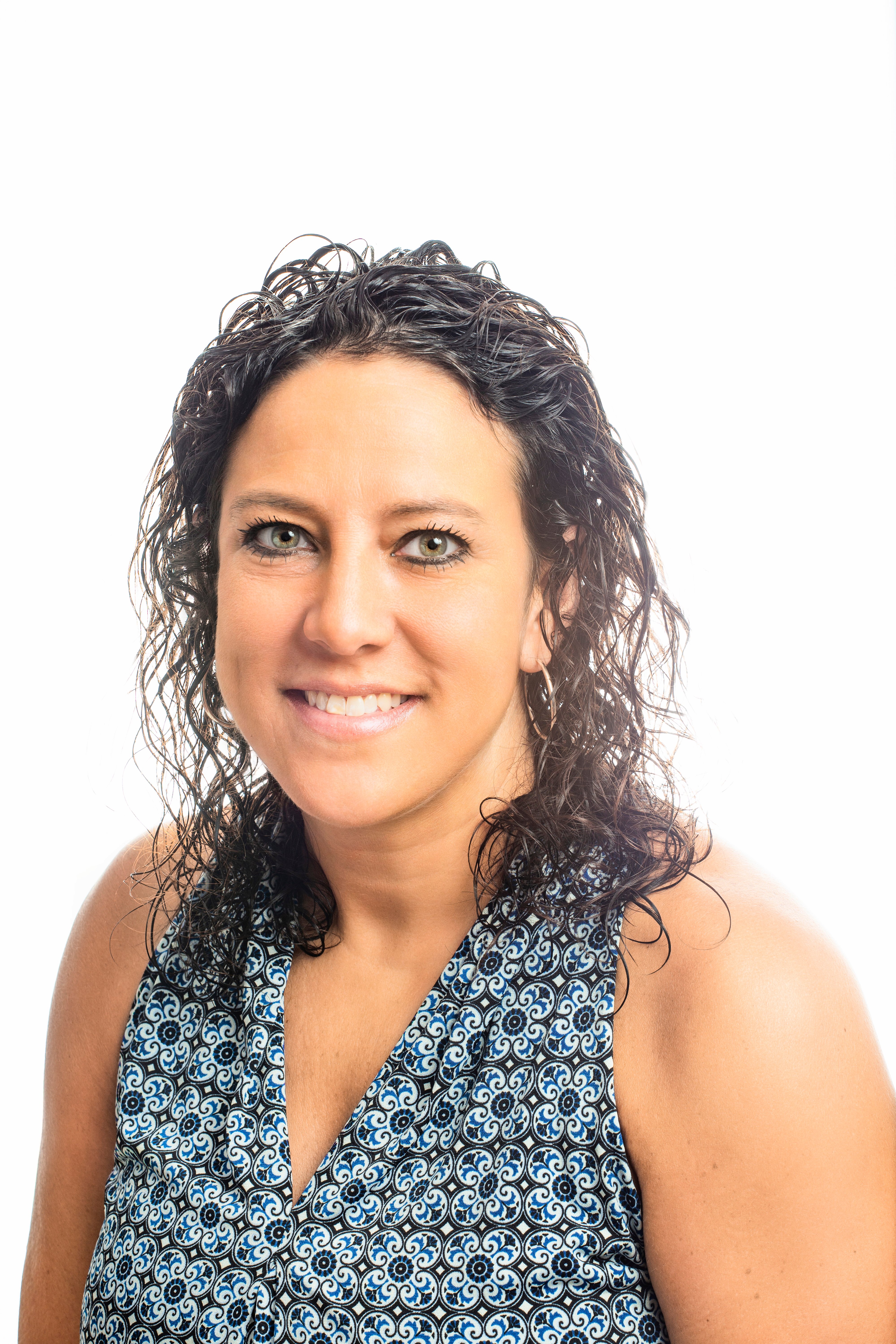 ASAE MM&C Conference proves associations are in the era of marketing automation
Recently, I had the pleasure of pounding the proverbial charcoal grey carpet at ASEA's MM&C Conference, held in D.C. Teeming with nearly 1,000 marketing and membership leaders in the association space, the event was a breath of fresh air in terms of digital possibility and receptiveness.
Whether passing conversations in the exhibit hall, in learning lab decks, or pared with flutes of champagne in downtown taverns, the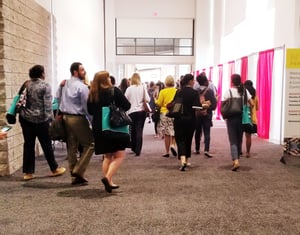 common discussion thread was very clear to me—associations are ready. They're past the point of justification and acceptance and are in the era of movement.
Attendees, comprised mostly of executives, directors, and managers, were all making the move from traditional email marketing providers to more intimate, integrated, and intelligent marketing systems. Whereas in the past, conversations cycled around justification and stakeholder buy-in, the chatter at this year's conference was laser-focused on the "how". How do we approach this? What's the best marketing automation platform? Who can we trust to partner with us on our digital journey?
And the event's session line-up paid homage to this evolved mentality. When not in the exhibit hall, I was able to settle into a few sessions to hear exactly how some associations are approaching the digital move. While more than half of the labs covered this topic to some level of detail, here are the talks I was able to check out: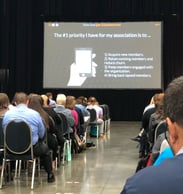 Associations aren't the only ones on the hunt for new solutions
Jamie Turner kicked off the event with a somewhat provocative keynote on what big global brands are doing in the age where traditional advertising has lost its luster. Turner focused on multi-dimensional marketing automation and artificial intelligence strategies that are helping to fill the gap for big consumer conglomerates.
While quite a leap for associations with shallower pockets and, in some cases, no marketing arms, his message was a good one. Whether in B2B or B2C, we can no longer count on traditional marketing and advertising methods to push brands or create buyers. And although associations will always operate on much smaller scales than the Red Bulls, Starbucks, and Legos of the world, there are still ascendable, relevant, and reasonable solutions to help associations reach their goals.
Successfully executed content strategies can build brands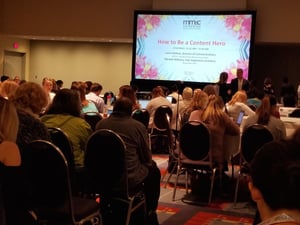 NTCA (The Rural Broadband Association), shared their experience effectively positioning NTCA as the thought leader and leading information resource for the telecom and communications industry. In her session, Laura mapped out how her organization was able to create a user-driven, content-rich (versus content-cumbersome) experience through an optimized and responsive web redesign and thoughtfully conceived and executed content strategy.
The key take-away…more than any other industry, associations are primed and ready to leverage the content they have and create the content that they need in line with their personas and overall marketing and organizational strategies.
Member personas are paving member value paths
The Florida Justice Association (FJA) gave an in-depth look into their process for profiling and ultimately creating personas for their constituents to better provide member value through programmatic content. By digging into the challenges, behaviors, and nuances of their member audiences, they were able to leverage their data-driven personas to round out member value.
The clear take-away is that personas are pinnacle to building and delivering effective content. Not just from a marketing perspective but from an organizational perspective. Associations need to lead with data-driven personas and follow-through with relevant, educational, insight-rich content.
AI—the shiny new, and effective, toy for associations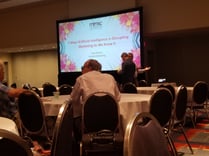 Dave Martin, Chief Digital Strategist, Leadout Marketing, gave a powerful and forward-thinking talk on how artificial intelligence is the next wave of disruption for marketers. David highlighted cool, avant-garde gadgets like AI-powered concierge Drip Bots, AI-driven SEO strategies, and National Language Generation (NLG) software which mechanically turns data fields into copy, just to name a few.
From an association perspective, marketing automation is clearly today's disruption, however, it's great to see that it isn't stopping there. There are accessible AI tools that associations can leverage right now to supplement their customer acquisition strategies and better meet their member needs.
ASAE honors stand-out associations with Gold Circle Awards
Outside of the formal tracks, there was sound reverence made for those associations who've pioneered their own paths in the industry. I was very proud to see two of HighRoad Solution's very own clients awarded with Gold Circle Awards:
American Academy of Otolaryngology Head and Neck Surgery (AAO-HNS)
Realizing the importance of intimate, intelligent, integrated member communications, AAO-HNS empowered themselves with HighRoad's very own Intelligent Contextual Email. To offset multiple newsletters going out the door with high volumes and low engagement, AAON leveraged ICE to create individualized newsletters for each member, curated from external sources and their own web site. One half of the hyper-personalized newsletter provides industry news and education while the other half serves up a member loyalty dashboard, giving each individual a pulse on their membership status and participation.
The American Optometric Association (AOA)
Recognizing the importance of truly integrated marketing defined as a mix of both digital and print elements, the AOA received Honorable Mention for their print medical journal, Focus Magazine. AOA's marketing stack is an impressive one with Adestra and Intelligent Contextual Email focusing on member retention and value, and SharpSpring focusing on recruitment efforts. Proof that traditional communications do still exist and play well with their digital counterparts.
All in all, my experience was one not to be missed. And I don't think I was alone. The tone for the event rang loud and clear—associations and societies are clamoring for new ways not just to grow revenue but to diversify it, and to evolve their member acquisition chops to offset foreseeable membership decay. They want it sustainable, they want it achievable, and they want it now.
I felt privileged to have these coming-of-automation-age discussions with those organizations who've made the decision to anchor their marketing stacks with integral data-driven platforms. And I welcomed discussion around best use cases, best tools, and, in some cases, best means to align and equip their teams for integration.
Is your association ready for marketing automation?
Set-up a meeting with us to gauge your readiness for the next step on the digital marketing chain. We can help you effectively identify, integrate, and maximize your chosen marketing automation tool. Specifically, we can help you:
Determine your readiness

Identify what platform makes the most sense for your business

Integrate your chosen platform with all of your systems

Train and support you so that you get the most out of your platform
About Aimee Pagano
Aimee joins HighRoad Solution with 15+ years of integrated marketing and communications experience, primarily in client-facing roles within the association and SaaS space. Her specialties include persona development, content strategy/management, lead gen and awareness campaign development, and website development/optimization.