Solutions Day-A Show that Feels Right!
As I sat on a plane last week to Chicago for the OrgCommunity 2017 Solutions Day, I reminisced on my experiences from the inaugural OrgCommunity Solutions Day 2016. Plenty of good experiences came from last year's show and I worried my expectations for this year might be too high and no chance for a repeat. Like a movie sequel, how fresh could this event be? I am happy to report Solutions Day 2017 was again a great experience and event!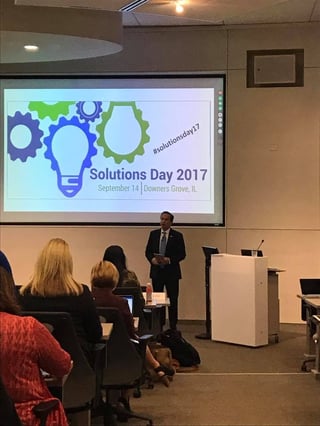 There were many things that made this event a success:
The size of a show does not matter - Although Solutions Day is relatively a smaller event (around 100 attendees), I engaged, befriended and networked with more than most other events.


A room full of successful executives all attending for the right reasons! Rarely are you able to go to a show and meet most of the key notes, speakers and attendees. I did that at Solutions Day!


The show is presented in a format where everyone is equally important – As a sponsor, it nice when you feel like an equal partner and contributor at the show versus the exhibitor or "vendor"


Just enough sessions! Simple, topic experts, interactive and just enough time! No missed sessions you wished you attended or sessions you wished you did not attend!


Response to previous year suggestions are proactive and evident. Nice when your survey questions/recommendations are acknowledged and in many case acted upon. One of my suggestions in 2016 was not to change venue and to keep it at the relaxed and modern space at ASGE's Institute for Training. Glad they did and what a great spot!
As I stumble through my new week, I cant help but look forward to the next Solutions Day! Here's to hoping for a three-peat!